Well-Driven Nails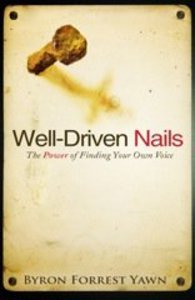 At its core this book is about everything seminary and academics never taught us about preaching. Professors don't produce preachers. Preachers are hewn out of the rough granite of experience and time. I had the privilege of sitting down with some of the most notable preachers of our day and pilfering their hard-earned wisdom and insights. Well-Driven Nails is an accounting of what I learned from these true "professors" of the craft. But, it is also more than a book on preaching; it's about a journey every preacher must take if he is to be a fearless proclaimer of Christ in a room full of critics. It is about finding one's own voice. In this sense it also applies to everyone who struggles to overcome the fear of man in their devotion to Christ.


- Publisher
You May Also Be Interested In
About "Well-Driven Nails"
At its core this book is about everything seminary and academics never taught us about preaching. Professors don't produce preachers. Preachers are hewn out of the rough granite of experience and time. I had the privilege of sitting down with some of the most notable preachers of our day and pilfering their hard-earned wisdom and insights. Well-Driven Nails is an accounting of what I learned from these true "professors" of the craft. But, it is also more than a book on preaching; it's about a journey every preacher must take if he is to be a fearless proclaimer of Christ in a room full of critics. It is about finding one's own voice. In this sense it also applies to everyone who struggles to overcome the fear of man in their devotion to Christ.

- Publisher


Meet the Author
Byron Yawn
After his conversion, Byron was mentored and discipled by some faithful men who endowed him with a love for the local church, a commitment to a reformed faith, and a passion for the Gospel. He became a permanent fixture in the ministries of the church body. From the very beginning of his walk, he had a burning desire to make Gods Word known to His people. Byron would tell you being there when God works in a heart is still the greatest thrill of his life. Today, the basic commitments of Byrons ministry still guide everything he does. The tremendous pressure upon todays pastor to stay relevant leads many pastors to adopt the latest evangelical fad. The goal of Byrons heart is to stay basic. In his own words, The most relevant aspect of our message will never make sense to the world. The Cross is an offensive thing. The Cross is the only thing. Byron is Senior Pastor of Community Bible Church in Nashville, TN where he resides with his wife Robin and their three children, Lauren, Wade, and Blake. Byron is a graduate of Master's College and The Master's Seminary.