Wesley and the Anglicans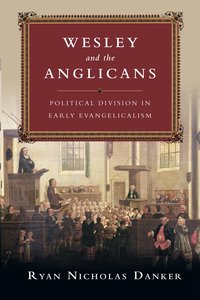 $

29.99

$

23.99
You Save: $6.00 (20%)
Paperback
:Why did the Wesleyan Methodists and the Anglican evangelicals divide during the middle of the eighteenth century? Many would argue that the division between them was based narrowly on theological matters, especially predestination and perfection. Ryan Danker suggests, however, that politics was a major factor throughout, driving the Wesleyan Methodists and Anglican evangelicals apart. Methodism was perceived to be linked with the radical and seditious politics of the Cromwellian period. This was a charged claim in a post-Restoration England. Likewise Danker explores the political force of resurgent Tory influence under George III, which exerted more pressure on evangelicals to prove their loyalty to the Establishment. These political realities made it hard for evangelicals in the Church of England to cooperate with Wesley and meant that all their theological debates were politically inflected. Rich in detail, here is a book for all who seek deeper insight into a critical juncture in the development of evangelicalism and early Methodism.

- Publisher
You May Also Be Interested In
About "Wesley and the Anglicans"
:Why did the Wesleyan Methodists and the Anglican evangelicals divide during the middle of the eighteenth century? Many would argue that the division between them was based narrowly on theological matters, especially predestination and perfection. Ryan Danker suggests, however, that politics was a major factor throughout, driving the Wesleyan Methodists and Anglican evangelicals apart. Methodism was perceived to be linked with the radical and seditious politics of the Cromwellian period. This was a charged claim in a post-Restoration England. Likewise Danker explores the political force of resurgent Tory influence under George III, which exerted more pressure on evangelicals to prove their loyalty to the Establishment. These political realities made it hard for evangelicals in the Church of England to cooperate with Wesley and meant that all their theological debates were politically inflected. Rich in detail, here is a book for all who seek deeper insight into a critical juncture in the development of evangelicalism and early Methodism.
- Publisher


Meet the Author
Ryan Nicholas Danker
Ryan Nicholas Danker (ThD, Boston University) is assistant professor of the history of Christianity and Methodist studies at Wesley Theological Seminary in Washington, D. C. He previously served as visiting assistant professor of church history and theology at Greensboro College in Greensboro, North Carolina. He has written and spoken widely on topics such as evangelicalism, John and Charles Wesley, Methodism, Wesleyan theology, the transatlantic evangelical revival and the Church of England. He has also served as a United Methodist pastor.
Table Of Contents
:introduction1. Identity And Challenge2. Movement And Conversion 3. Propaganda And Power 4. Politics And Polity5. Enclaves And Incursions 6. Eucharist And Ethos 7. Hegemony And Casualties 8. Vision And Divergence 9. Conclusion: Constrained To Deviate Appendix Bibliography