What a Son Needs From His Mom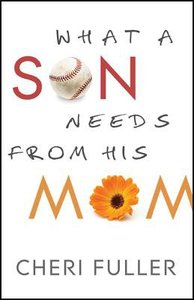 Bestselling Author and Parenting Expert Equips Moms for the Unique Challenges of Raising Sons

Core book buyers--moms--are desperate to know what makes their sons tick and how to be a welcome influence in their lives. And unlike many other books about raising boys, this warm and trustworthy resource is from a mom's perspective.

Through compelling true stories and solid principles, this book offers a blueprint for what sons need from their moms to become healthy, caring, confident young men. With specific advice for boys' different ages, moms will learn the balance between controlling and letting go, how to cultivate their son's unique masculinity, how to encourage a lasting relationship with God, and much more.

- Publisher
You May Also Be Interested In
About "What a Son Needs From His Mom"
Bestselling Author and Parenting Expert Equips Moms for the Unique Challenges of Raising Sons

Core book buyers--moms--are desperate to know what makes their sons tick and how to be a welcome influence in their lives. And unlike many other books about raising boys, this warm and trustworthy resource is from a mom's perspective.

Through compelling true stories and solid principles, this book offers a blueprint for what sons need from their moms to become healthy, caring, confident young men. With specific advice for boys' different ages, moms will learn the balance between controlling and letting go, how to cultivate their son's unique masculinity, how to encourage a lasting relationship with God, and much more.
- Publisher


Meet the Author
Cheri Fuller
Cheri Fuller is the best-selling, award-winning author of more than 30 books with combined sales of over 1 million, including Integrity's "A Busy Woman's Guide to Prayer." Named the 2004 Oklahoma Mother of the Year, Cheri is an inspirational speaker and frequent guest on national radio and TV programs. She also contributes to "Today's Christian Woman" and other magazines. Her ministry, Families Pray USA, inspires and equips women, children, teens, families and churches to impact their world through prayer. Cheri and her husband have three grown children and five lively grandchildren.