What a Son Needs From His Mom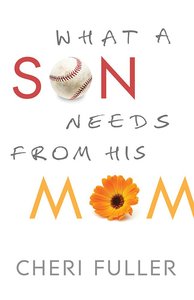 Ever Feel Like Your Son Is From a Different Planet?

Don't worry, Mom. There's a good reason why your son perplexes you. He's the OPPOSITE sex! Boys really do think, communicate, and process the world differently than girls. But no matter your son's age, he needs you, and he needs you in not-so-apparent ways.
Drawing from her own experiences, as well as those from moms and sons from around the country, Cheri Fuller shares what makes boys and young men tick and how to become a more welcome influence at every stage in their lives. She answers all the top questions, including:

"How can I help my son (and me!) deal with his emotions in a healthy way?"
"School is such a struggle. How can I help him?"
"Our personalities are SO different. How can we get on the same page?"
"My son hardly says a thing. What can I do?"
"What are the best ways to instill good values?"
"How can I encourage a lasting faith in God?"

With page after page of use-it-today advice and encouraging stories, this book will help you steer your son toward becoming a caring, confident young man.

Includes Reflection Questions for Personal or Group Use

Great for understanding grandsons, too!

"Some mother-son relationships seem to add credence to the adage that 'men are from Mars, women are from Venus.' Even mothers who have a
close bond with their sons may think they harbor a complete stranger when their male offspring reach puberty. Fuller is a speaker and author, as well as mother of three (two boys and a girl) and grandmother of six. She lists specific activities that all sons need from their mothers, such as encouragement, communication, prayer, and confidence-building. She adds questions at each chapter's end to 'ponder, journal or discuss,' lending the book to both individual and group study. Recommended for the parenting section of any church library." --Church Libraries

- Publisher
You May Also Be Interested In
About "What a Son Needs From His Mom"
Ever Feel Like Your Son Is From a Different Planet?

Don't worry, Mom. There's a good reason why your son perplexes you. He's the OPPOSITE sex! Boys really do think, communicate, and process the world differently than girls. But no matter your son's age, he needs you, and he needs you in not-so-apparent ways.
Drawing from her own experiences, as well as those from moms and sons from around the country, Cheri Fuller shares what makes boys and young men tick and how to become a more welcome influence at every stage in their lives. She answers all the top questions, including:

"How can I help my son (and me!) deal with his emotions in a healthy way?"
"School is such a struggle. How can I help him?"
"Our personalities are SO different. How can we get on the same page?"
"My son hardly says a thing. What can I do?"
"What are the best ways to instill good values?"
"How can I encourage a lasting faith in God?"

With page after page of use-it-today advice and encouraging stories, this book will help you steer your son toward becoming a caring, confident young man.

Includes Reflection Questions for Personal or Group Use

Great for understanding grandsons, too!

"Some mother-son relationships seem to add credence to the adage that 'men are from Mars, women are from Venus.' Even mothers who have a
close bond with their sons may think they harbor a complete stranger when their male offspring reach puberty. Fuller is a speaker and author, as well as mother of three (two boys and a girl) and grandmother of six. She lists specific activities that all sons need from their mothers, such as encouragement, communication, prayer, and confidence-building. She adds questions at each chapter's end to 'ponder, journal or discuss,' lending the book to both individual and group study. Recommended for the parenting section of any church library." --Church Libraries
- Publisher


Meet the Author
Cheri Fuller
Cheri Fuller is the best-selling, award-winning author of more than 30 books with combined sales of over 1 million, including Integrity's "A Busy Woman's Guide to Prayer." Named the 2004 Oklahoma Mother of the Year, Cheri is an inspirational speaker and frequent guest on national radio and TV programs. She also contributes to "Today's Christian Woman" and other magazines. Her ministry, Families Pray USA, inspires and equips women, children, teens, families and churches to impact their world through prayer. Cheri and her husband have three grown children and five lively grandchildren.