What Every Christian Needs to Know About the Qur'an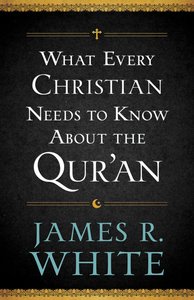 A Look Inside the Sacred Book of One of the World's Fastest-Growing Religions

What used to be an exotic religion of people halfway around the world is now the belief system of people living across the street. Through fair, contextual use of the Qur'an as the primary source text, apologist James R. White presents Islamic beliefs about Christ, salvation, the Trinity, the afterlife, and other important topics. White shows how the sacred text of Islam differs from the teachings of the Bible in order to help Christians engage in open, honest discussions with Muslims.

- Publisher
You May Also Be Interested In
About "What Every Christian Needs to Know About the Qur'an"
A Look Inside the Sacred Book of One of the World's Fastest-Growing Religions

What used to be an exotic religion of people halfway around the world is now the belief system of people living across the street. Through fair, contextual use of the Qur'an as the primary source text, apologist James R. White presents Islamic beliefs about Christ, salvation, the Trinity, the afterlife, and other important topics. White shows how the sacred text of Islam differs from the teachings of the Bible in order to help Christians engage in open, honest discussions with Muslims.
- Publisher


Meet the Author
James R White
James R. White is the author of several acclaimed books, including The King James Only Controversy, The God Who Justifies, Scripture Alone:Exploring the Bible's Accuracy, Authority and Authenticity; Same Sex Controversy:Defending and Clarifying the Bible's Message About Homosexuality and The Forgotten Trinity. He is an elder of the Phoenix Reformed Baptist Church, director of Alpha and Omega Ministriesa Christian apologetics organization, an adjunct professor with Golden Gate Baptist Theological Seminary, and a professor of apologetics with Columbia Evangelical Seminary. He and his family live in Phoenix.