What Every Groom Needs to Know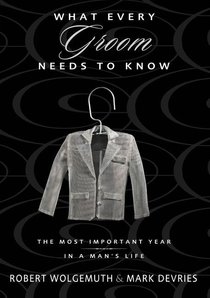 This is your guide to all the things that happen after 'I do.' The advice in this book to grooms is pretty simple. You don't need to become an expert on women. Only one woman. Learn the secrets to loving and cherishing her. Take an honest look at your family of origin: its unwritten codes, how it has shaped you, and the ways it affects your relationship with your wife. Learn how to speak each other's 'language' and appreciate the qualities each of you brings to your marriage. Robert Wolgemuth and Mark DeVries offer a solid, approachable look at improving communication skills, secrets for a great sex life, budgeting basics, dealing with in-laws, navigating tough times, and much more. Above all, you'll cultivate a spiritual unity that draws the two of you closer to each other as you draw closer to God. Make this first year together as husband and wife what it was meant to be: the most important year in your life.

- Publisher
You May Also Be Interested In
About "What Every Groom Needs to Know"
This is your guide to all the things that happen after 'I do.' The advice in this book to grooms is pretty simple. You don't need to become an expert on women. Only one woman. Learn the secrets to loving and cherishing her. Take an honest look at your family of origin: its unwritten codes, how it has shaped you, and the ways it affects your relationship with your wife. Learn how to speak each other's 'language' and appreciate the qualities each of you brings to your marriage. Robert Wolgemuth and Mark DeVries offer a solid, approachable look at improving communication skills, secrets for a great sex life, budgeting basics, dealing with in-laws, navigating tough times, and much more. Above all, you'll cultivate a spiritual unity that draws the two of you closer to each other as you draw closer to God. Make this first year together as husband and wife what it was meant to be: the most important year in your life.
- Publisher


Meet the Authors
Robert Wolgemuth
Wolgemuth is a popular lay Bible teacher, speaker, and best-selling author. His seventeen books include Men of the Bible, The Most Important Year in a Man's Life and The Most Important Place on Earth which he has taught to Sunday school classes for over 30 years.- Publisher.
Mark Devries
Mark DeVries (M.Div., Princeton Theological Seminary) is the founder of Youth Ministry Architects, a consulting team that assists churches in building sustainable youth ministries (www.ymarchitects.com). DeVries has served since 1986 as associate pastor for youth and their families at First Presbyterian Church in Nashville, Tennessee. He has trained youth workers on five continents and has taught courses or been a guest lecturer at a number of colleges and seminaries.
DeVries is the author of Family-Based Youth Ministry,True Love Waits, Sustainable Youth Ministry: Why Most Youth Ministry Doesn't Last and What Your Church Can Do About It and co-author of The Most Important Year in a Woman's Life/The Most Important Year in a Man's Life, and he has been a contributing writer for Josh McDowell's Youth Ministry Handbook, Starting Right and Reaching a Generation for Christ. In addition, his articles and reviews have been published in a variety of journals and magazines. He and his wife, Susan, have four grown children.