What Every Small Group Leader Should Know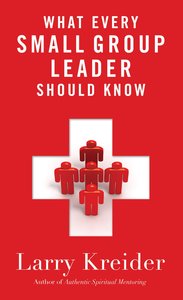 With more than thirty years of experience in leading small groups, pioneer Larry Kreider writes, "I am completely convinced that if God can use me, He can use anyone!" Most people have untapped leadership potential, and unleashing those abilities is often just a matter of equipment and motivation. What Every Small-Group Leader Should Know is the go-to guide for plenty of both. Whether readers have already taken a step of faith into a leadership position or are still praying about the possibility, this will become an indispensable handbook of practical tips, tools, and suggestions. At the heart of this book is a big-picture vision of biblical service. Jesus said that whoever wants to be great in His kingdom must become a servant (see Mark 10:43). That passion for meeting others' needs is the difference between ho-hum and effective, thriving leaders.

- Publisher
You May Also Be Interested In
About "What Every Small Group Leader Should Know"
With more than thirty years of experience in leading small groups, pioneer Larry Kreider writes, "I am completely convinced that if God can use me, He can use anyone!" Most people have untapped leadership potential, and unleashing those abilities is often just a matter of equipment and motivation. What Every Small-Group Leader Should Know is the go-to guide for plenty of both. Whether readers have already taken a step of faith into a leadership position or are still praying about the possibility, this will become an indispensable handbook of practical tips, tools, and suggestions. At the heart of this book is a big-picture vision of biblical service. Jesus said that whoever wants to be great in His kingdom must become a servant (see Mark 10:43). That passion for meeting others' needs is the difference between ho-hum and effective, thriving leaders.
- Publisher


Meet the Author
Larry Kreider
Larry Kreider currently serves as International Director of DOVE Christian Fellowship International (DCFI), a worldwide network of churches. Larry and a team of young leaders planted a new church called DOVE Christian Fellowship in 1980. Within ten years, the church grew from 25 to over 2,000 members. In 1996, DOVE decentralized from one church into several different congregations to become an apostolic movement known as DOVE Christian Fellowship International (DCFI). Today DCFI is a growing family of churches and ministries scattered across eighteen states and more than twenty nations in six continents of the world.
He has written over twenty books, including House to House, The Cry for Spiritual Fathers and Mothers, The Biblical Role of Elders for Today's Church and five new books just entitled Authentic Spiritual Mentoring, Your Personal House of Prayer, Starting A House Church, Discovering The Basic Truths of Christianity and Building your Life on The Basic Truths of Christianity .
Koorong -Editorial Review.