What Follows After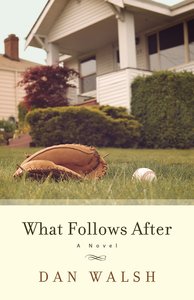 In October 1962, Colt Harrison and his little brother, Timmy, hatched a plan. They would run away from their Florida home, head for their aunt's house in Savannah, Georgia, and refuse to come home until their parents got back together. But things go terribly, terribly wrong. Colt's mother and father must come to grips with years of neglect and mistrust in order to recover their beloved sons, their love for one another, and their broken marriage.

In this emotional story, Dan Walsh takes readers on a journey to rediscover the things that matter most in life--love, truth, and family.

- Publisher
You May Also Be Interested In
About "What Follows After"
In October 1962, Colt Harrison and his little brother, Timmy, hatched a plan. They would run away from their Florida home, head for their aunt's house in Savannah, Georgia, and refuse to come home until their parents got back together. But things go terribly, terribly wrong. Colt's mother and father must come to grips with years of neglect and mistrust in order to recover their beloved sons, their love for one another, and their broken marriage.

In this emotional story, Dan Walsh takes readers on a journey to rediscover the things that matter most in life--love, truth, and family.
- Publisher


Meet the Author
Dan Walsh
Dan Walsh is the author of The Unfinished Gift and a member of American Christian Fiction Writers. He is a pastor and lives with his family in the Daytona Beach area, where he's busy researching and writing his next novel.