What God Does When Men Lead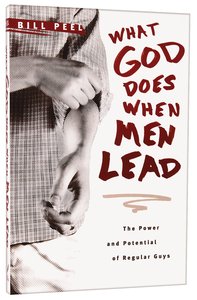 Let's face it, men: We may not all think of ourselves as leaders, but we each want to be the kind of man people admire - strong, confident, and courageous. A man whose life really makes an impact; a man who is secure in himself and who takes good care of the people he loves. But a lot of us secretly don't believe we have what it takes to lead. If this sounds familiar, and you feel like you're holding back from the best life has to offer, best-selling author Bill Peel has good news: God has created and equipped you with specific gifts that will help you fulfill the plans He has for you as a man - and as a leader. In What God Does When Men Lead, Bill will show you how to discover your true power and potential, resulting in a richer family dynamic, a more rewarding work environment, a transformed church - in short, a deeper and more satisfying life than you've ever imagined.



- Publisher What if a group of men decides to pray and seek God's help and guidance, in order to tackle the problems of homelessness, hunger, decaying family life, and inner emptiness? This guide offers encouragement, inspiration, and practical tips on how men can affect their world through group prayer.

- Publisher
You May Also Be Interested In
About "What God Does When Men Lead"
Let's face it, men: We may not all think of ourselves as leaders, but we each want to be the kind of man people admire - strong, confident, and courageous. A man whose life really makes an impact; a man who is secure in himself and who takes good care of the people he loves. But a lot of us secretly don't believe we have what it takes to lead. If this sounds familiar, and you feel like you're holding back from the best life has to offer, best-selling author Bill Peel has good news: God has created and equipped you with specific gifts that will help you fulfill the plans He has for you as a man - and as a leader. In What God Does When Men Lead, Bill will show you how to discover your true power and potential, resulting in a richer family dynamic, a more rewarding work environment, a transformed church - in short, a deeper and more satisfying life than you've ever imagined.


- Publisher

What if a group of men decides to pray and seek God's help and guidance, in order to tackle the problems of homelessness, hunger, decaying family life, and inner emptiness? This guide offers encouragement, inspiration, and practical tips on how men can affect their world through group prayer.
- Publisher


Meet the Author
Bill Peel
Bill Peel is a best-selling author whose six books include the Silver Medallion–winning What God Does When Men Pray, which has sold over 200,000 copies. He is president of Foundations for Living, an organization that educates and equips Christians to discover and fulfill their God-given calling, and he directs the 24SEVEN Project, an initiative to mobilize Christians to live out their faith in the workplace. He consults with churches and organizations on workplace ministry and process evangelism, as described in his book Going Public with Your Faith, which he coauthored with Dr. Walt Larimore. Bill served on Promise Keepers' leadership training faculty for several years and has spoken at churches and conferences around the world. He and his wife, Kathy, have been married for 38 years. They have three grown sons, two beautiful daughters-in-law, and two border collies. They live in Dallas.