What If...? (Quick Questions Series)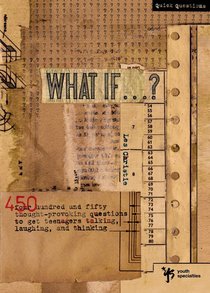 This stimulating, go-anywhere resource provides 450 provocative questions to get kids talking.

- Publisher
You May Also Be Interested In
About "What If...? (Quick Questions Series)"
This stimulating, go-anywhere resource provides 450 provocative questions to get kids talking.
- Publisher


Meet the Author
Les Christie
Les Christie (DMin, Trinity International University) is a national speaker and youth ministry veteran. He chairs the youth ministry department at William Jessup University, in Rocklin, California where he has taught the Gospel of John for the last 15 years, and is also an adjunct professor at Western Seminary. Les is the author of more than a dozen books, including Awaken Your Creativity and When Church Kids Go Bad. SPANISH BIO: Les Christie: ha invertido mas de 40 anos en el ministerio juvenil, 20 de ellos en la misma iglesia. Es un orador con mucha energia y pertenece a la junta directiva d
Table Of Contents
Acknowledgments

The History Of What If ...?

How To Use What If ...?

The Questions
Excerpt
Excerpt from: What If...? (Quick Questions Series)
The History of What If ...? The questions in What If...? will cause you to take a deeper look at who you are and what you believe. Some of the questions are just plain fun, some even a little silly. Others are extremely serious and bring you face to face with issues many students and adults are facing. Have fun with these questions. Change them, play with them, and add details to them. Use these questions as a point of departure and let your imagination go. The only thing I ask is that you do not answer any of the questions with a simple yes or no. Try to search out what you are thinking and feeling. Some of the questions are designed to stretch you and some to make you feel uncomfortable. Some of the questions offer difficult choices. You will look at your past and project yourself into hypothetical situations. Don't be afraid of them. Think, use your creativity, dream. This will be quite an adventure. This book will be helpful on those long trips in a car or bus when you want to break the tension and get the conversation going. You may want to start with some of the lighter questions and just stay with them for the trip out and look at some others for the return trip. You may want to code your favorite questions. For example, put an F next to the questions you think are funny and know will get a laugh. Write a DD next to the questions that you know will cause the group to dig deeper in the conversation. Put an HT next to the ones that are hot topics that will create some heated debate. Be wise when deciding which questions to ask. If I have a student whose parents just went through a messy divorce, I wouldn't ask #36 (you found one of your parents in an affair). Be extremely sensitive with questions having to do with appearance; carefully assess certain questions' potential impact on certain students. I recommend you discuss the questions with a trusted companion or a small group of friends with whom you feel comfortable expressing your thoughts and feelings. Begin to wrestle verbally with each other over how you reached your conclusions to the questions. It is surprising how often someone we think we know will respond to a question in a way that we would never have predicted. Part of the enjoyment of the questions is discovering the journeys people are taking in coming up with the answers they are giving. Talk about the process you went through in coming up with your responses. You can also take this book with you for a solo journey. Get away for an hour or a day or a weekend by yourself. Find a comfortable place where you will not be disturbed and dive into the questions. One of the benefits of this book is that it allows you to gain insights without actually living through the predicaments described in the questions. You may want to record some of your thoughts to look at later or to share with a friend. I hope this book raises questions you have wanted to raise for long time but just did not know how to bring up. I hope you have an exceptional time. HOW TO USE What If...? As you approach each question, consider at least three possible follow-up questions: WHAT COULD YOU DO? Let your mind wander and explore all the possibilities. There are no wrong answers so let your imagination run wild. Brainstorm, thinking of every possible way to approach the situation. Don't evaluate your answers at this point. Your task is to dream big and be creative. Have fun with all the options in front of you. WHAT WOULD YOU DO? What do you think you would do and why would you select this course of action out of all the possibilities? What if you were in a different mood, place, or time? Would you still come to the same conclusion? Why or why not? What if you were with different people? How might they affect your decision? WHAT SHOULD YOU DO? Does the Bible have anything to say to this question? What would Jesus do if he were faced with the same set of circumstances? Why? What would your parents do? Why? What would your minister, youth minister, youth sponsors, or teachers do? Why? What would Billy Graham or Mother Theresa do? Why? You get the idea.
Other Titles In The "Quick Questions" Series View All