What is Theology?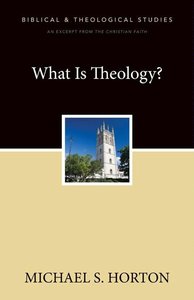 A foundational exploration of the nature and aims of Christian theology.
You May Also Be Interested In
About "What is Theology?"
A foundational exploration of the nature and aims of Christian theology.
- Koorong


Every seminary in the world offers classes on Christian theology, but what at is its core is theology? Is it a practical or theoretical discipline? Is it centrally a matter of faith or of reason? What are its proper means and ends? Derived from Michael Horton's recently released The Christian Faith, already one of the most significant systematic theologies of the past 50 years, this digital short explores the discipline of theology through the lens of philosophy, Scripture, ministry, and the church, laying a foundation for pursuing theology as hearing, wisdom, understanding, and more.
?Theology serves the function of articulating the identity of this God so that he may be properly invoked,? Horton writes. This short work constructs a conceptual framework for pastors, theologians, and students wanting to think more deeply about the foundational discipline of Christian thought and practice.
- Publisher
Meet the Author
Michael S Horton
Michael Horton (PhD, Wycliffe Hall, Oxford, and the University of Coventry) is Professor of Apologetics and Theology at Westminster Theological Seminary, California. He is the author of a number of books including Covenant and Eschatology, The Divine Drama, Lord and Servant: A Covenant Christology, Covenant and Salvation: Union with Christ and most recently Christless Christianity:The Alternative Gospel of the American Church. A prolific author, he is also the host of The White Horse Inn, a nationally syndicated radio program, and editor of Modern Reformation magazine.
Koorong - Editorial Review.