What Jesus Started: Joining the Movement, Changing the World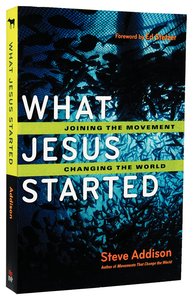 Sometimes we get so caught up in the power of Jesus shouting from the cross, "It is finished!" that we forget that Jesus started something. What Jesus started was a movement that began small, with intimate conversations designed to build disciples into apostles who would go out in the world and seed it with God's kingdom vision. That movement grew rapidly and spread wide as people recognized the truth in it and gave their lives to the power of it. That movement is still happening today, and we are called to play our part in it.

- Publisher
You May Also Be Interested In
About "What Jesus Started: Joining the Movement, Changing the World"
Sometimes we get so caught up in the power of Jesus shouting from the cross, "It is finished!" that we forget that Jesus started something. What Jesus started was a movement that began small, with intimate conversations designed to build disciples into apostles who would go out in the world and seed it with God's kingdom vision. That movement grew rapidly and spread wide as people recognized the truth in it and gave their lives to the power of it. That movement is still happening today, and we are called to play our part in it.
- Publisher


Meet the Author
Steve Addison
Steve Addison has been a life-long student of movements that renew and expand the Christian faith. Steve distills the characteristics of dynamic movements and makes them available to leaders committed to the multiplication of disciple-making churches.Steve began his research into Christian movements in the late 1980s while serving as a church planter in Melbourne, Australia. He carried that interest into his Doctor of Ministry with Fuller Seminary.Steve currently serves as Director of Church Resource Ministries (CRM) Australia, a member of the CRM global community. CRM empowers leaders for the church.Steve loves walking, historical novels, Shakespeare, anything written by G K Chesterton or C S Lewis, Sunday afternoon naps, watching Australia beat the Poms at cricket, and supporting the Collingwood Football Club.
Table Of Contents
Preface

In The Beginning Was Jesus

part One: What Jesus Began

1. Why Jesus Came

2. Let's Go Somewhere Else

3. Jesus' Gospel

4. Follow Me And I'll Teach You

5. I Will Build My Church

6. Time To Go

7. Church On The Porch

part Two: What Jesus Continued To Do: The Twelve And The Early Church

8. Acts Of The Risen Lord

9. Missionaries Without Borders

10. Eyewitness News

11. Obedience School

12. Life In The First Church