What Matters Most?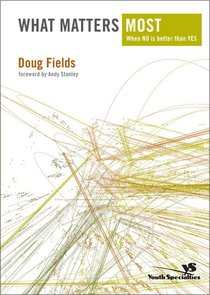 * Let the best-selling author of The Purpose-Driven Youth Ministry show you how to sustain your pastoral duties---without sacrificing your sanity or your family! Offering the reminder that "no" is not a 4-letter word, Fields discusses the need for solitude, reflection, and prayer based on the life and priorities of Christ. 96 pages, hardcover from Zondervan.

- Publisher This small book will call to you on days that the janitor reads you the riot act, the church secretary jumps down your throat and those home school parents just won't leave you alone. In this book, Doug Fields shares the wisdom that has helped him survive over 25 years in ministry: Just say No. That two letter word (that often feels like a four letter word to some people!) has the power to help you stay in ministry for the long haul and keep your family intact and thriving. From the book: Jesus said 'no' to good things... 'no' to significant things... 'no' to important people. He was 100%God/100% human and he had limits. He needed solitude. He needed time to reflect and pray and nourish his spiritual life and time away from those bonehead disciples. He needed space. And, Jesus had a lot to do. You try being the Savior of the world! He had a short window to accomplish his life mission and yet he seemed to prioritize and live so different than we do. To say 'no' in ministry is to be radical...to be radical is to be counter-cultural...to be counter-cultural is to be like Jesus...to be like Jesus should become our goal.

- Publisher
You May Also Be Interested In
About "What Matters Most?"
* Let the best-selling author of The Purpose-Driven Youth Ministry show you how to sustain your pastoral duties---without sacrificing your sanity or your family! Offering the reminder that "no" is not a 4-letter word, Fields discusses the need for solitude, reflection, and prayer based on the life and priorities of Christ. 96 pages, hardcover from Zondervan.
- Publisher

This small book will call to you on days that the janitor reads you the riot act, the church secretary jumps down your throat and those home school parents just won't leave you alone. In this book, Doug Fields shares the wisdom that has helped him survive over 25 years in ministry: Just say No. That two letter word (that often feels like a four letter word to some people!) has the power to help you stay in ministry for the long haul and keep your family intact and thriving. From the book: Jesus said 'no' to good things... 'no' to significant things... 'no' to important people. He was 100%God/100% human and he had limits. He needed solitude. He needed time to reflect and pray and nourish his spiritual life and time away from those bonehead disciples. He needed space. And, Jesus had a lot to do. You try being the Savior of the world! He had a short window to accomplish his life mission and yet he seemed to prioritize and live so different than we do. To say 'no' in ministry is to be radical...to be radical is to be counter-cultural...to be counter-cultural is to be like Jesus...to be like Jesus should become our goal.
- Publisher


Meet the Author
Doug Fields
Founder of Simply Youth Ministry, Doug Fields has been in youth ministry since 1979 and is currently on staff at Saddleback Church in Southern California. He's the director of Purpose Driven Youth Ministry, and the author and co-author of more than 50 books, including the bestsellers Speaking to Teenagers and Your First Two Years in Youth Ministry. SPANISH BIO: Doug Fields es el pastor de ensenanza de la Iglesia Saddleback, una iglesia de 25,000 miembros. Como pastor de jovenes por mas de veinticinco anos, Doug realiza su actual funcion desde 1992. Ha sido autor y coauthor de mas de cincuenta