What Not to Say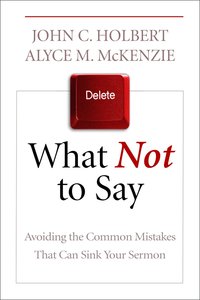 In this humorous guide, John C. Holbert and Alyce M. McKenzie provide helpful and practical advice for avoiding the common mistakes that many preachers make in their sermons. Useful for preachers, students, and teachers alike, What Not to Say addresses how to use language about God, how to use stories in preaching, and what not to say (and what to say) in the beginning, middle, and end of sermons. A companion video with preaching illustrations is available online at wjkbooks.com.

- Publisher
You May Also Be Interested In
About "What Not to Say"
In this humorous guide, John C. Holbert and Alyce M. McKenzie provide helpful and practical advice for avoiding the common mistakes that many preachers make in their sermons. Useful for preachers, students, and teachers alike, What Not to Say addresses how to use language about God, how to use stories in preaching, and what not to say (and what to say) in the beginning, middle, and end of sermons. A companion video with preaching illustrations is available online at wjkbooks.com.
- Publisher


Meet the Authors
Alyce Mckenzie
Alyce M. McKenzie is Professor of Homiletics at the Southern Methodist University Perkins School of Theology in Dallas, Texas. She is the author of a number of books including "Preaching Proverbs: Wisdom for the Pulpit" and "Parables for Today", both published by WJK.
John C Holbert
John C. Holbert is the Lois Craddock Perkins Professor of Homiletics at Perkins School of Theology, Southern Methodist University, in Dallas, Texas. He is the author of several books and articles on preaching.