What You Say is What You Get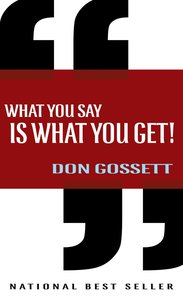 This book reveals the power of words when we proclaim in agreement what the Word of God declares. Gossett's fresh and uplifting message of faith and hope will teach you how to receive healing, wisdom, answers to prayer, and much more! Discover the key to peace, love, joy, prosperity, happiness, and health.

- Publisher
You May Also Be Interested In
About "What You Say is What You Get"
This book reveals the power of words when we proclaim in agreement what the Word of God declares. Gossett's fresh and uplifting message of faith and hope will teach you how to receive healing, wisdom, answers to prayer, and much more! Discover the key to peace, love, joy, prosperity, happiness, and health.
- Publisher


Meet the Author
Don Gossett
For more than fifty years, Don Gossett (1929) has been serving the Lord through full-time ministry. Born again at the age of twelve, Don answered his call to the ministry just five years later and began his ministry by reaching out to his unsaved family members. Don apprenticed with many well-known evangelists, beginning with William Freeman, one of America's leading healing evangelists during the late 1940s. He also spent time with Raymond T. Richey, Jack Coe, and T. L. Osborn. Don's many writings have been translated into almost twenty languages and have exceeded twenty-five million in world
Table Of Contents
This Book Reveals The Power Of Words When We Proclaim In Agreement What The Word Of God Declares. Gossett's Fresh And Uplifting Message Of Faith And Hope Will Teach You How To Receive Healing, Wisdom, Answers To Prayer, And Much More! Discover The Key To Peace, Love, Joy, Prosperity, Happiness, And Health.