What Your Dreams Are Telling You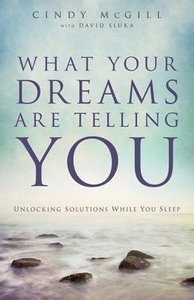 Non-Mystical, Non-Charismatic, Christian Approach to a Bestselling Topic

Most people think their dreams are interesting, perplexing, maybe even strange. But a secret weapon for success? Messages from God to help the impossible become possible? Author Cindy McGill contends that this is exactly the case.

Readers will discover that solutions to their problems can come on any given night--as they sleep. This book is for anyone--believer and non-believer alike--searching for spiritually sound teaching on a fascinating topic. Not only is it possible to remember dreams, but the tools for decoding those puzzling words and pictures are within easy reach.

God has something to say, McGill explains, and ever since Bible times, he likes to use dreams to say it. Learning to speak this language will bring readers into relationship with God for the first time, or deepen that relationship in a powerful way.

- Publisher
You May Also Be Interested In
About "What Your Dreams Are Telling You"
Non-Mystical, Non-Charismatic, Christian Approach to a Bestselling Topic

Most people think their dreams are interesting, perplexing, maybe even strange. But a secret weapon for success? Messages from God to help the impossible become possible? Author Cindy McGill contends that this is exactly the case.

Readers will discover that solutions to their problems can come on any given night--as they sleep. This book is for anyone--believer and non-believer alike--searching for spiritually sound teaching on a fascinating topic. Not only is it possible to remember dreams, but the tools for decoding those puzzling words and pictures are within easy reach.

God has something to say, McGill explains, and ever since Bible times, he likes to use dreams to say it. Learning to speak this language will bring readers into relationship with God for the first time, or deepen that relationship in a powerful way.
- Publisher


Meet the Authors
Cindy Mcgill
Cindy McGill has a passion to see people live their lives to the fullest, receive healing from life's trauma and understand how to live a victorious life. She travels internationally, teaching on the subject of dreams and dream interpretation, and leads "dream teams" using innovative methods to help others discover the hidden meanings behind their dreams and give them a chance to find Truth at the point of their need. <BR><BR>She has interpreted dreams at events in the U.S. and abroad, including the Olympics, Sundance Film Festival, Burning Man in the Black Rock Desert of Nevada, and other expA
David Sluka
David Sluka is a writer and consultant who focuses on themes of leadership, communication and publishing. He has written for authors such as James Goll, Ed Silvoso, Patricia King, Joan Hunter, Joshua Mills, Audrey Meisner and others. Connect with David at www.david-sluka.com.