What Your Husband Isn't Telling You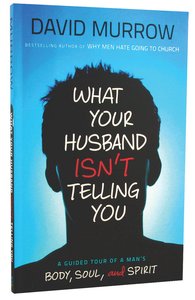 Bestselling Author Offers Women New Insights into the Confusing Inner World of Men

It's the rare woman who isn't perplexed by her husband. What's going on inside his man-brain? What secrets is he keeping? What is he afraid of? Why is he so obsessed with (fill-in-the-blank)? Why do men see things so differently? And what about his spiritual life (or lack of it)?

David Murrow leads women on a groundbreaking tour of a man's heart, mind, and soul. More than just a book about what men think, it explores the deep forces that determine what they say, do, and believe--secrets most men do not give voice to. Readers will be surprised, fascinated, and encouraged by what they find.

- Publisher
You May Also Be Interested In
About "What Your Husband Isn't Telling You"
Bestselling Author Offers Women New Insights into the Confusing Inner World of Men

It's the rare woman who isn't perplexed by her husband. What's going on inside his man-brain? What secrets is he keeping? What is he afraid of? Why is he so obsessed with (fill-in-the-blank)? Why do men see things so differently? And what about his spiritual life (or lack of it)?

David Murrow leads women on a groundbreaking tour of a man's heart, mind, and soul. More than just a book about what men think, it explores the deep forces that determine what they say, do, and believe--secrets most men do not give voice to. Readers will be surprised, fascinated, and encouraged by what they find.
- Publisher


Meet the Author
David Murrow
David Murrow is the bestselling author of Why Men Hate Going to Church and director of Church for Men, which works to restore a healthy masculine spirit in churches. A sought-after expert and speaker on men's issues, he spent twenty years honing his skills as a communicator producing and writing award-winning TV documentaries, commercials, and specials. David has a degree in anthropology. He and his wife have three children and live in Chugiak, Alaska. Learn more at www.churchformen.com.