What's in the Bible For Teens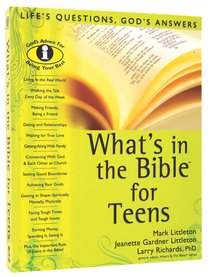 Whatever the topic, teens can find answers from the Bible through this unique and engaging reference book. Through a blend of Scripture and analysis, biblical character studies, personal application, and more, this volume helps teens understand what God's Word has to say about topics relevant to them. Geared to readers of all levels of Bible understanding, this book is accessible and easy to navigate as well as ideal for both comprehensive, in-depth study and a shorter survey approach.

- Publisher
You May Also Be Interested In
About "What's in the Bible For Teens"
Whatever the topic, teens can find answers from the Bible through this unique and engaging reference book. Through a blend of Scripture and analysis, biblical character studies, personal application, and more, this volume helps teens understand what God's Word has to say about topics relevant to them. Geared to readers of all levels of Bible understanding, this book is accessible and easy to navigate as well as ideal for both comprehensive, in-depth study and a shorter survey approach.

- Publisher
- Koorong

"Bible-based information relevant to today's teens. Arranged topically, material includes Scripture and analysis, character studies, personal application, illustrations, quotations, and more. Suitable for individual or group study"--Provided by publisher.
- Publisher

Through Scripture, biblical character studies, and personal application, shows readers what God's Word says about important everyday topics.
- Publisher


Meet the Authors
Mark Littleton
Littleton is a graduate of Colgate University and Dallas Theological Seminary. He has served both as a youth pastor and pastor, and continues his ministry today as an itinerant speaker and writer of all things factual and fabulous. He has published over thirty books on various themes and subjects, including the spiritual life, depression, time management, Bible study, and the problem of evil and suffering.
Jeanette Littleton
Jeanette Littleton is the author of three books, including When Your Child Strays: Hope and Help from Parents Who've Been There, to be released in July 2003. She has written more than 3000 other pieces--including short fiction, skits, and more. Jeanette frequently speaks at writers' conferences, and with her husband, Mark, has written two books and directs Heart of America Christian Writers Network. They enjoy coffee in Kansas City with three children.
Larry Richards
Larry Richards has been teaching the Bible in local churches for more than forty years, and he has written more than two hundred books, including textbooks and study Bibles. He has been named a Distinguished Educator by the North American Professors of Christian Education. His Every series with Nelson, which includes Every Angel and Every Teaching of Jesus, bring the wealth and wonder of God's Word to every reader. He has also edited and written The Smart Guide to the Bible series. Larry lives in Raleigh, North Carolina, with his wife, Sue, who is also an author.
-Editorial Review.