What's So Great About God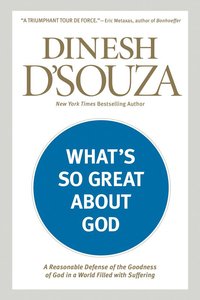 For a lot of people, the biggest question about God is not, surprisingly enough, whether He exists. Instead, it is about whether God is truly good. Dinesh D?Souza, in his debates with leading atheists, quickly realized that many of those debates revolved around the question of evil in this world?how God could create a world that allowed such suffering and evil.

In What's So Great about God, Dinesh D?Souza takes these questions head-on: Does God act like a tyrant? Is God really responsible for the evil in this world? Why is there suffering in the world? For the first time ever, Dinesh D?Souza approaches this apologetic topic with historical and scientific proof and presents to the reader why God is truly worthy of our worship and love.

- Publisher
You May Also Be Interested In
About "What's So Great About God"
For a lot of people, the biggest question about God is not, surprisingly enough, whether He exists. Instead, it is about whether God is truly good. Dinesh D?Souza, in his debates with leading atheists, quickly realized that many of those debates revolved around the question of evil in this world?how God could create a world that allowed such suffering and evil.

In What's So Great about God, Dinesh D?Souza takes these questions head-on: Does God act like a tyrant? Is God really responsible for the evil in this world? Why is there suffering in the world? For the first time ever, Dinesh D?Souza approaches this apologetic topic with historical and scientific proof and presents to the reader why God is truly worthy of our worship and love.
- Publisher


Meet the Author
Dinesh D'Souza
Dinesh D'Souza is the president of The King's College in New York City. A former policy analyst in the Reagan White House, D'Souza also served as the John M. Olin Fellow at the American Enterprise Institute and as a Rishwain Fellow at the Hoover Institution at Stanford University. He is the author of several New York Times bestsellers, including Illiberal Education, What's So Great about America, What's So Great about Christianity, and Life after Death: The Evidence. His articles have appeared in major magazines and newspapers including the New York Times, Wall Street Journal, Atlantic Monthly, Vanity Fair, New Republic, National Review, and Forbes. For more information, visit dineshdsouza.com and tkc.edu.