When Faith Turns Ugly: Understanding Toxic Faith and How to Avoid It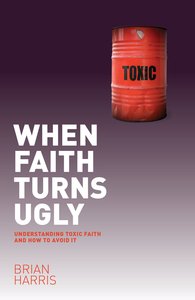 Following the huge success of The Tortoise Usually Wins, 2012, and The
Big Picture, 2015, in When Faith Turns Ugly Brian Harris explores why
the Christian faith sometimes wears two masks - usually life-serving and
transforming, but occasionally escapist, illusionary and even poisonous.
What are the warning signs that faith is at risk of turning toxic? What do
we mean by the conviction that the gospel liberates? Brian Harris' take on
what constitutes life-serving faith is refreshing and will be appreciated by
all who would like to be sure that their obedience to Jesus the Christ will
help to build a world with a better name.

- Publisher
You May Also Be Interested In
About "When Faith Turns Ugly: Understanding Toxic Faith and How to Avoid It"
Following the huge success of The Tortoise Usually Wins, 2012, and The
Big Picture, 2015, in When Faith Turns Ugly Brian Harris explores why
the Christian faith sometimes wears two masks - usually life-serving and
transforming, but occasionally escapist, illusionary and even poisonous.
What are the warning signs that faith is at risk of turning toxic? What do
we mean by the conviction that the gospel liberates? Brian Harris' take on
what constitutes life-serving faith is refreshing and will be appreciated by
all who would like to be sure that their obedience to Jesus the Christ will
help to build a world with a better name.
- Publisher


Meet the Author
Brian Harris
Professor Brian Harris (BSocSc, BTh (Hons), MTh, PhD (Uni of Auckland)) is Principal of Vose Seminary, a Baptist theological college in Perth, WA. Brian has lived in both South Africa and New Zealand and has successfully been the senior pastor of three churches, each of which grew dramatically. His PhD interacts with the thought of Stanley Grenz and explores the nature and future of evangelical theology. In 2009, he commenced as senior pastor of Carey Baptist Church in conjunction with his role at Vose, giving him valuable practical pastoral insight. Brian is married to Rosemary, and has three children - Nick, Amy and Jett.