When God Goes to Starbucks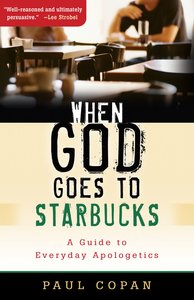 More than ever, Christians are bombarded with tough faith questions from their pluralistic friends and neighbors. Many of these emerge as "anti-truth claims" and slogans we are all familiar with:
• Why not just look out for yourself?
• Do what you want--just as long as you don't hurt anyone
• Miracles violate the laws of nature
• Aren't people born gay?
Paul Copan has been answering questions like these for many years. In When God Goes to Starbucks, he offers readers solid and caring Christian responses to these and many other concerns that are being discussed in Starbucks, shopping malls, youth groups, and schools. Each chapter provides succinct answers and points for countering the cultural questions believers are faced with today.

- Publisher
You May Also Be Interested In
About "When God Goes to Starbucks"
More than ever, Christians are bombarded with tough faith questions from their pluralistic friends and neighbors. Many of these emerge as "anti-truth claims" and slogans we are all familiar with:
• Why not just look out for yourself?
• Do what you want--just as long as you don't hurt anyone
• Miracles violate the laws of nature
• Aren't people born gay?
Paul Copan has been answering questions like these for many years. In When God Goes to Starbucks, he offers readers solid and caring Christian responses to these and many other concerns that are being discussed in Starbucks, shopping malls, youth groups, and schools. Each chapter provides succinct answers and points for countering the cultural questions believers are faced with today.
- Publisher


Meet the Author
Paul Copan
Paul Copan (Ph.D., Marquette University) is Pledger Family Chair of Philosophy and Ethics Palm Beach Atlantic University, Florida. He has authored and edited a number of books including True for You, But Not for Me: Deflating the Slogans that Leave Christians Speechless (Bethany House), That's Just Your Interpretation: Responding to Skeptics Who Challenge Your Faith (Baker), co-authored with William Lane Craig, Creation ex Nihilo: A Biblical, Philosophical, and Scientific Exploration (Baker Book House) and Jesus' Resurrection Fact Or Figment? (Intervarsity Press), and most recently When God Goes to Starbucks: A Guide to Everyday Apologetics.
Koorong -Editorial Review.