When Life Hurts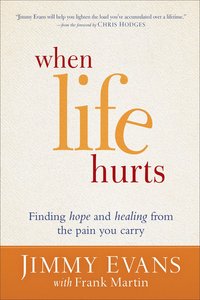 We all experience emotional pain--and even devastation--in our lives, but few of us know how to deal with it properly. Our unresolved pain accumulates deep within the recesses of our hearts, in a place Jimmy Evans calls the "hurt pocket." The more pain we accumulate, the more we are mentally, emotionally, and relationally crippled. But what if we could reach into that hurt pocket, confront our pain, and experience release and freedom?

Jimmy Evans shows readers how to completely remove and resolve every negative event from their past that is compromising their present and keeping them from their God-given destiny. He helps readers forgive others and themselves and discover true inner peace.

Perfect for individuals, as well as small groups and entire churches, When Life Hurts will help set people free from the pain of the past so they can live fully in the present and look forward to the future.

- Publisher
You May Also Be Interested In
About "When Life Hurts"
We all experience emotional pain--and even devastation--in our lives, but few of us know how to deal with it properly. Our unresolved pain accumulates deep within the recesses of our hearts, in a place Jimmy Evans calls the "hurt pocket." The more pain we accumulate, the more we are mentally, emotionally, and relationally crippled. But what if we could reach into that hurt pocket, confront our pain, and experience release and freedom?

Jimmy Evans shows readers how to completely remove and resolve every negative event from their past that is compromising their present and keeping them from their God-given destiny. He helps readers forgive others and themselves and discover true inner peace.

Perfect for individuals, as well as small groups and entire churches, When Life Hurts will help set people free from the pain of the past so they can live fully in the present and look forward to the future.
- Publisher


Meet the Authors
Jimmy Evans
Jimmy Evans is one of America's leading experts on family and marriage relationships. He is the founder and president of MarriageToday, the national marriage ministry aired to millions of homes each week and now in its twelfth year. Birthed out of the pain and near failure of his own marriage, Jimmy's ministry began as an informal outreach to couples, which then transitioned to a popular Bible study. Jimmy was then appointed as minister to couples and later as senior pastor at Trinity Fellowship Church in Amarillo, Texas. He is the author of Our Secret Paradise, The Fig Leaf Conspiracy, Marriage on the Rock and 7 Secrets Of Successful Families.
-Editorial Review.
Frank Martin
Nicky Cruz is the best-selling author of fourteen books, including the Christian classic, "Run Baby Run," Nicky is a minister and evangelist who has reached millions of people around the globe. Today he oversees Nicky Cruz Outreach, an international ministry to urban youth. The father of four daughters and grandfather of seven, he lives in Colorado Springs with his wife, Gloria. Visit his website at www.nickycruz.org. ýFrank Martin is an author and commentary writer for Focus on the Family. He collaborated with Nicky Cruz on his last book, "One Holy Fire." Frank and his wife, Ruthie, live i