When Love Ends and the Ice Cream Carton is Empty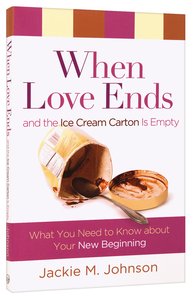 Losing a hope-filled dating relationship is a stressful and painful event. And when it seems to occur again, again, and again, what is the refuge for a Christian single? While most books for singles tell readers how to get the next guy, When Love Ends and the Ice Cream Carton is Empty encourages a healthy healing process. Practical and biblically based, each chapter guides the reader through a metaphorical day of restoration. Twilight recognizes and deals with endings, night validates and grieves the loss, dawn awakens hope, and day is the new beginning based on the solid assurance of Christ. Chapters conclude with discussion questions for individual or group study, helpful Bible verses, and a prayer.



- Publisher
You May Also Be Interested In
About "When Love Ends and the Ice Cream Carton is Empty"
Losing a hope-filled dating relationship is a stressful and painful event. And when it seems to occur again, again, and again, what is the refuge for a Christian single? While most books for singles tell readers how to get the next guy, When Love Ends and the Ice Cream Carton is Empty encourages a healthy healing process. Practical and biblically based, each chapter guides the reader through a metaphorical day of restoration. Twilight recognizes and deals with endings, night validates and grieves the loss, dawn awakens hope, and day is the new beginning based on the solid assurance of Christ. Chapters conclude with discussion questions for individual or group study, helpful Bible verses, and a prayer.


- Publisher


Meet the Author
Jackie M Johnson
Jackie M. Johnson is an accomplished freelance writer and marketing copywriter for companies and faith-based organizations such as Compassion International, Focus on the Family, and Young Life. She is also a devoted prayer warrior and a graduate of Trinity International University in Deerfield, Illinois. Jackie resides in Colorado Springs, Colorado.
Table Of Contents
twilight

1. Sunset: Dealing With Endings
2. The Edge Of Evening: Getting Comfort And Support 
3. Nightfall: Grieving Losses

night

4. the Midnight Hour: Healing Emotional Pain 
5. Night Lights: Experiencing God's Love
6. Out Of The Shadows: Discovering The Power Of Forgiveness

dawn

7. before Sunrise: Learning To Wait Well 
8. First Light: Awakening Hope 
9. Illumination: Restoring Confidence And Self Esteem

day

10. Arise: Waking Up To The Rest Of Your Life 
11. Shine: Making Healthier Choices Next Time 
12. Brighter Days Ahead: Living In The Light

notes
acknowledgments
about The Author