When Mother Was Eleven Foot Four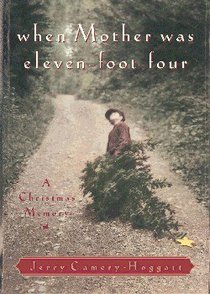 This beautifully written holiday memoir follows the tradition of The Christmas Box and The Best Christmas Pageant Ever. It\u2019s the story of the author\u2019s mother, whose romantic nature and love for Christmas left a lifelong impression on her son.Mother is a tiny woman-4\u201911\u2019\u2019-except when life demands that she draw herself up to her "full height" of 11\u20194\u2019\u2019. Christmas is one of those times. Father is opposed to celebrating Christmas, and every year the couple fights about it. And every year Jerry and the other kids eavesdrop nervously until their mother ensures that Christmas wins out. When things take a turn for the worst, Mother and the boys find themselves struggling with poverty and depressed circumstances. Mother tries to make the best of Christmas at first, but when she loses the holiday spirit, her young sons decide to do something about it. In their attempt, they discover the true meaning of grace.

- Publisher A beautifully-written memoir about the author's childhood Christmases and the grace they taught him.

- Publisher It's the Christmas of 1963, and a young boy is about to learn what it means to be a giver of gifts.

- Publisher
You May Also Be Interested In
About "When Mother Was Eleven Foot Four"
This beautifully written holiday memoir follows the tradition of The Christmas Box and The Best Christmas Pageant Ever. It\u2019s the story of the author\u2019s mother, whose romantic nature and love for Christmas left a lifelong impression on her son.Mother is a tiny woman-4\u201911\u2019\u2019-except when life demands that she draw herself up to her "full height" of 11\u20194\u2019\u2019. Christmas is one of those times. Father is opposed to celebrating Christmas, and every year the couple fights about it. And every year Jerry and the other kids eavesdrop nervously until their mother ensures that Christmas wins out. When things take a turn for the worst, Mother and the boys find themselves struggling with poverty and depressed circumstances. Mother tries to make the best of Christmas at first, but when she loses the holiday spirit, her young sons decide to do something about it. In their attempt, they discover the true meaning of grace.
- Publisher

A beautifully-written memoir about the author's childhood Christmases and the grace they taught him.
- Publisher

It's the Christmas of 1963, and a young boy is about to learn what it means to be a giver of gifts.
- Publisher


Meet the Author
Jerry Camery-Hoggatt
Jerry Camery-Hoggatt is professor of New Testament and Narrative Theology at Vanguard University in Costa Mesa, California. His books include When Mother Was Eleven-Foot-Four, Speaking of God, and Irony in Mark's Gospel.