When the Many Are One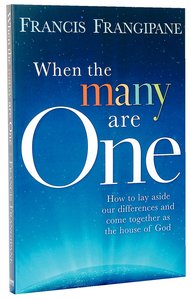 In a season when external forces are causing disunity and schisms in the church body throughout the world, Francis Frangipane calls believers back to unity and inspires them to be "built together" into a powerfully influential force within our communities. He demonstrates how every Christian - whether traditional, evangelical, Pentecostal, or Charismatic - can be a part of a united house of the Lord bringing liberty and spiritual life to our world. When the church becomes "a dwelling of God in the Spirit" (Eph. 2: 19-22), we will be freed of racial and class prejudices, uniquely anointed to bring healing to our communities. Frangipane inspires readers to work together to rid our lives and our world of the stronghold of religious pride and self-contentment in the church. In unity, the house of the Lord will pave the road to true revival.

- Publisher
You May Also Be Interested In
About "When the Many Are One"
In a season when external forces are causing disunity and schisms in the church body throughout the world, Francis Frangipane calls believers back to unity and inspires them to be "built together" into a powerfully influential force within our communities. He demonstrates how every Christian - whether traditional, evangelical, Pentecostal, or Charismatic - can be a part of a united house of the Lord bringing liberty and spiritual life to our world. When the church becomes "a dwelling of God in the Spirit" (Eph. 2: 19-22), we will be freed of racial and class prejudices, uniquely anointed to bring healing to our communities. Frangipane inspires readers to work together to rid our lives and our world of the stronghold of religious pride and self-contentment in the church. In unity, the house of the Lord will pave the road to true revival.

- Publisher
- Koorong


How the Christian community-driven by grace, unified in love, and activated by prayer-can bring revival and change the world.
We all want to be part of something bigger than ourselves. We all want to live in communities that are healthy and safe. InWhen the Many Are One(formerlyThe House of the Lord), Francis Frangipane demonstrates how Christians of every color, culture, and denomination can work together to transform our communities.
Our best efforts will not stop the flood of problems in our cities if we remain isolated from each other. In a season when external forces are causing disunity and division, Francis Frangipane calls us back to oneness with Christ, and through Him oneness with other Christians. With the character and power of Christ in our midst, the Church can again bring transformation to our communities, our nation, and our world.
- Publisher
Meet the Author
Francis Frangipane
Francis Frangipane is senior pastor of River of Life Ministries in Cedar Rapids, Iowa, which he began in 1989. Publication of Francis' book The Three Battlegrounds in 1989 fueled demand for him as an international conference speaker. Since 1996, Pastor Frangipane has hosted a half-hour weekly television program for the Sky Angel Satellite network. Francis Frangipane is well known for his efforts in uniting thousands of church leaders in hundreds of cities around the world. The author is also a frequent guest on Christian television programs and has been profiled in several Christian magazines.