When You Don't Know What to Pray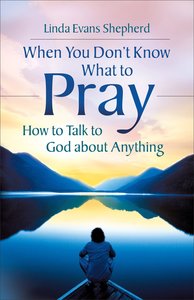 It's easy to pray for others' needs. If God takes a long time in answering--or answers with a no--it's easier to take. Far more difficult is focusing on your own needs, when sometimes you don't get the answers you want. What do you pray when life gets hard or even unbearable? When you lose a spouse or a child? When your health deteriorates? When your spiritual life seems barren? Linda Evans Shepherd knows what it's like to pray in the most dire of circumstances. She shows readers the how, what, and when of praying for themselves. As she takes readers through her own prayer journey and the stories of others, they will be encouraged and equipped to pray for themselves in any circumstance. They'll also find that whether or not God changes their circumstances, he will use prayer to change them.

- Publisher
You May Also Be Interested In
About "When You Don't Know What to Pray"
It's easy to pray for others' needs. If God takes a long time in answering--or answers with a no--it's easier to take. Far more difficult is focusing on your own needs, when sometimes you don't get the answers you want. What do you pray when life gets hard or even unbearable? When you lose a spouse or a child? When your health deteriorates? When your spiritual life seems barren? Linda Evans Shepherd knows what it's like to pray in the most dire of circumstances. She shows readers the how, what, and when of praying for themselves. As she takes readers through her own prayer journey and the stories of others, they will be encouraged and equipped to pray for themselves in any circumstance. They'll also find that whether or not God changes their circumstances, he will use prayer to change them.
- Publisher


Meet the Author
Linda Evans Shepherd
Linda Evans Shepherd and Eva Marie Everson are both award-winning authors, successful speakers, radio personalities, and avid readers of fiction. They are the popular authors of The Potluck Club, The Potluck Club--Trouble's Brewing, and The Potluck Club--Takes the Cake. They've also led numerous Bible studies and women's retreats and still find time to be wives and mothers. Linda lives in Longmont, Colorado, and Eva lives in Casselberry, Florida.