When You Need a Miracle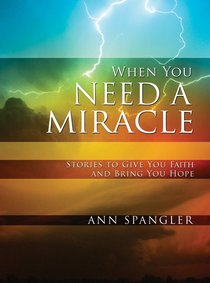 When life is challenging, each of can benefit from a daily dose of hope and faith. That's what this devotional will bring you---stories of miracles and angels drawn directly from Scripture and from the lives of ordinary people today. Story after story will help you to remember that God is in control and that he still loves you.
You May Also Be Interested In
About "When You Need a Miracle"
When life is challenging, each of can benefit from a daily dose of hope and faith. That's what this devotional will bring you---stories of miracles and angels drawn directly from Scripture and from the lives of ordinary people today. Story after story will help you to remember that God is in control and that he still loves you.
- Koorong

Year after year, Ann Spangler has provided readers with uniquely appealing devotional books. When You Need a Miracle continues the tradition by selecting the best stories from her first two books, An Angel a Day and A Miracle a Day, to offer readers a picture of a God who is far bigger and better than most people think. By combining stories from the Bible with stories of contemporary men and women who have experienced miracles or angels, Ann helps readers recognize the hand of a loving, all-powerful God at work in this world of anxiety and uncertainty. Anyone who has longed for a miracle will take heart from the remarkable stories in this book. They remind us that, even in the midst of trouble and trial, one thing remains true: We belong to a God who is eager and able to care for us through his wisdom, kindness, and unfailing mercy. Each of these ninety devotions opens with a key Scripture and closes with a prayer.
- Publisher

Year after year, Ann Spangler has provided readers with uniquely appealing devotional books. When You Need a Miracle continues the tradition by selecting the best stories from her first two books, An Angel a Day and A Miracle a Day, to offer readers a picture of a God who is far bigger and better than most people think. By combining stories from the Bible with stories of contemporary men and women who have experienced miracles or angels, Ann helps readers recognize the hand of a loving, all-powerful God at work in this world of anxiety and uncertainty.Anyone who has longed for a miracle will take heart from the remarkable stories in this book. They remind us that, even in the midst of trouble and trial, one thing remains true: We belong to a God who is eager and able to care for us through his wisdom, kindness, and unfailing mercy.Each of these ninety devotions opens with a key Scripture and closes with a prayer.
- Publisher