When Your Family's Lost a Loved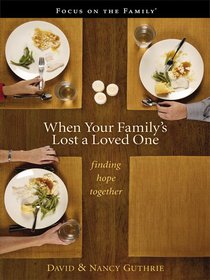 All families eventually face the loss of a loved one. When it happens, it can place great strain on a marriage, as well as on other relationships. That's partly because we don't know what to do with our feelings and partly because every family member grieves in his or her own way. In this book, Nancy and David Guthrie explore the family dynamics involved when a loved one dies?and debunk some myths about family grief. Through their own experiences of losing two young children and interviews with those who've faced losing spouses and parents, they show how grief can actually pull a family closer together rather than tearing it apart.

- Publisher
You May Also Be Interested In
About "When Your Family's Lost a Loved"
All families eventually face the loss of a loved one. When it happens, it can place great strain on a marriage, as well as on other relationships. That's partly because we don't know what to do with our feelings and partly because every family member grieves in his or her own way. In this book, Nancy and David Guthrie explore the family dynamics involved when a loved one dies?and debunk some myths about family grief. Through their own experiences of losing two young children and interviews with those who've faced losing spouses and parents, they show how grief can actually pull a family closer together rather than tearing it apart.
- Publisher


Meet the Authors
David Guthrie
Nancy Guthrie, the author of Holding on to Hope, brings her characteristic authenticity and refreshing perspective to the problem of pain. A veteran of Christian publishing, Guthrie currently provides media relations services to the Christian Booksellers Association and for the ministry of Anne Graham Lotz, as well as doing special projects for a host of Christian publishers. Guthrie lives with her husband David and son Matt in Nashville, Tennessee.
Nancy Guthrie
Those who have watched Nancy and David Guthrie walk through the loss of two infant children, and the millions who have read their story worldwide in TIME Magazine and USA Today, have wondered at their ability to emerge from such sorrow with joy for life and passion for God. In reality, this deep place of pain caused Nancy to dig into the scriptures like she never had before, looking for answers to her questions and a deeper relationship to God.
She offered many of the lessons she learned from this sorrowful experience in her 2002 book, Holding On to Hope: A Pathway of Suffering to the Heart of God (Tyndale House Publishers) which has helped thousands of people pursue God in the midst of their suffering. She regularly hears from readers book from all around the world who have been touched by the as the book as it has been translated into numerous languages including Spanish, Portuguese, German, Danish, Norwegian, Korean and Chinese.
Nancy has also written The One Year Book of Hope (also Tyndale), a daily devotional for people who are hurting or grieving, When Your Family's Lost a Loved One (with her husband, David), Hoping for Something Better (a study of the book of Hebrews) and Hearing Jesus Speak Into Your Sorrow.
The Guthries have seen God continue to use their loss to minister to other people going through loss in a variety of ways, including serving as co-hosts for a new production of the GriefShare video series. GriefShare is a 13-week video curriculum series that is used to facilitate weekly grief groups in more than 6,000 churches nationwide