Where Courage Calls (#01 in Return To The Canadian West Series)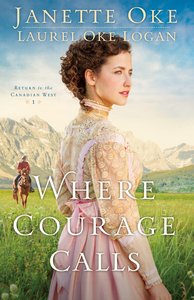 Her courage and her heart will be tested in ways she never expected...

Beth Thatcher has spent her entire life in the safe, comfortable world of her family, her friends, and the social outings her father's wealth provides. But Beth is about to leave it all behind to accept a teaching position in the rugged foothills of western Canada. Inspired by her aunt Elizabeth, who went west to teach school several years ago, and gently encouraged by her father, Beth resolves to put her trust in God and bravely face any challenge that comes her way.

But the conditions in Coal Valley are even worse than she'd feared. A recent mining accident has left the town grieving and at the mercy of the mining company. The children have had very little prior education, and many of the locals don't even speak English. There isn't even a proper schoolhouse. In addition, Beth's heart is torn between two young men--both Mounties, one a lifelong friend and the other a kind, quiet man who comes to her aid more than once.

Despite the many challenges, Beth is determined to make a difference in the rustic frontier town. But when her sister visits from the East, reminding her of all the luxuries she's had to give up, will Beth decide to return to her privileged life as soon as the school year is over?






A special companion story to Hallmark Channel's When Calls the Heart TV series

- Publisher
You May Also Be Interested In
About "Where Courage Calls (#01 in Return To The Canadian West Series)"
Her courage and her heart will be tested in ways she never expected...

Beth Thatcher has spent her entire life in the safe, comfortable world of her family, her friends, and the social outings her father's wealth provides. But Beth is about to leave it all behind to accept a teaching position in the rugged foothills of western Canada. Inspired by her aunt Elizabeth, who went west to teach school several years ago, and gently encouraged by her father, Beth resolves to put her trust in God and bravely face any challenge that comes her way.

But the conditions in Coal Valley are even worse than she'd feared. A recent mining accident has left the town grieving and at the mercy of the mining company. The children have had very little prior education, and many of the locals don't even speak English. There isn't even a proper schoolhouse. In addition, Beth's heart is torn between two young men--both Mounties, one a lifelong friend and the other a kind, quiet man who comes to her aid more than once.

Despite the many challenges, Beth is determined to make a difference in the rustic frontier town. But when her sister visits from the East, reminding her of all the luxuries she's had to give up, will Beth decide to return to her privileged life as soon as the school year is over?






A special companion story to Hallmark Channel's When Calls the Heart TV series
- Publisher


Meet the Authors
Janette Oke
Janette Oke was born in Champion, Alberta, Canada, during the depression years. She graduated from Mountain View Bible College in Alberta where she met her husband, Edward. They married in 1957 and served in churches in Calgary and Edmonton, Canada, and Indiana. Oke writes historical novels which portray the lives of early North American settlers from many walks of life and geographical settings. She also writes engaging children's stories and inspiring gift books that warm the heart. Oke published her first book, Love Comes Softly, in 1979. This book experienced immediate success and became a series. She has won a number of awards including the Gold Medallion Award, The Christy Award of Excellence, the 1992 Presidents Award for her significant contribution to the category of Christian fiction from the Evangelical Christian Publishers Association, and in 1999, the Life Impact Award from the Christian Booksellers Association International. Her books have been translated into fourteen languages. Oke has published some 75 books including, The Canadian West, Seasons of the Heart and Women of the West. Her most recent releases include a beautiful childrens picture book, I Wonder...Did Jesus Have a Pet Lamb and The Songs of Acadia series, co-written with T. Davis Bunn. - Publisher.
Laurel Oke Logan
Logan was born and raised in Canada. She is a homemaker and writer.
Customer Reviews For "Where Courage Calls (#01 in Return To The Canadian West Series)"
Write Your Own Review
A must-read series!
By Clare,

Apr 23 2018

Where Courage Calls was a great read, and an awesome start to the rest of the series, I couldn't wait to read the next one! 
Would definitely recommend this series to anyone who is a big fan of the 'when calls the heart' tv series, or anyone else who is looking for a new series to read! 
---
Enjoyable
By Jacqueline,

Jan 07 2017
This is the first in a series of three books that follows the life of Elizabeth (Beth) Thatcher. Although the whole series is considered in the romance genre this first book contains very little of the romance.  I loved the story though. Beth is a very privileged young woman who has chosen to go West and teach in a very primitive coal mining town which has no electricity or inside plumbing in the homes. The families are extremely poor. I loved how Beth faced each obstacle with realistic fear but then trusts God and moves forward in courage. It is a beautiful gentle story of a young woman finding herself. I am looking forward to reading the next installments of her story.
---
Recommended for all Janette Oke fans
By Iola,

Jan 31 2014
When Courage Calls is co-authored by Janette and her daughter, Laurel Oke Logan, and it's just as good as the early books. It features Beth Thatcher, a young relative of Elizabeth (from When Calls the Heart), and Beth is following her aunt's footsteps by leaving the security of her well-to-do Toronto home to take a job teaching in the West-Coal Valley, a mining town, in the 1920's. 

It's not a romance (although there are romantic elements). It's the story of a young woman from a privileged upbringing who finds herself serving in a small town with no conveniences (no shops-not even indoor plumbing). As the story progresses, she is challenged by people and circumstances, and learns to rely on God for guidance in times of difficulty. It's reminiscent of the story of Elizabeth Thatcher, but it's also entirely Beth's own story. 
Thanks to Bethany House and NetGalley for providing a free ebook for review. 
{{review.title}}
By {{review.author.name}},

{{review.reviewCreatedDate | date:'MMM dd yyyy'}}

{{reviewdescription}}
{{review.text}}
---
Other Titles In The "Return To The Canadian West Series" Series View All