Where Few Else Dare #01: Classified Top Secret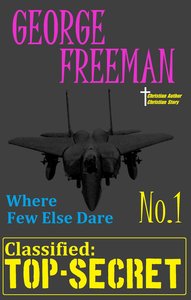 When an experienced high level and motivated former Russian Air Force colonel, Grigory Mikhail Kelenchov, decides to change his life and become a supporter of international crime and terrorism, he is certain he will exceed. No one could, or would, oppose him with his comprehensive army of powerful and influential supporters, and his covert base deep in the desert of southern Libya. However, one thing he did not plan for was the response from the United Nations, which had also decided it was time for change. The new U.N. tactic generated out of Chapter 7, Article 45, of the U.N. Charter and involved pre-emptive air strikes to stop the carnage U.N. troops normally faced when things were allowed to get out of hand, instead of being ?nipped in the bud?.When the U.N. changed its tactics, it involves the United States of America and a team of dedicated people who could train hard, fight hard and risk it all if necessary. Headed up by an also high level and motivated Air Force colonel, Colonel Stephen J. Henderson, and his small team, the United Nations takes on Grigory Kelenchov on his own terms in a gripping game of espionage and head to head aerial combat. Helped by some unlikely friends, the chances of success are high but not guaranteed. Although pushed to the limit and surrounded by endless demands, Colonel Henderson also finds time for a new romance in his life, after the death of his wife several years earlier. This new woman is not only also in the U.S. Air Force but is on his team. Could it all go well or end in disaster.

- Publisher
You May Also Be Interested In
About "Where Few Else Dare #01: Classified Top Secret"
When an experienced high level and motivated former Russian Air Force colonel, Grigory Mikhail Kelenchov, decides to change his life and become a supporter of international crime and terrorism, he is certain he will exceed. No one could, or would, oppose him with his comprehensive army of powerful and influential supporters, and his covert base deep in the desert of southern Libya. However, one thing he did not plan for was the response from the United Nations, which had also decided it was time for change. The new U.N. tactic generated out of Chapter 7, Article 45, of the U.N. Charter and involved pre-emptive air strikes to stop the carnage U.N. troops normally faced when things were allowed to get out of hand, instead of being ?nipped in the bud?.When the U.N. changed its tactics, it involves the United States of America and a team of dedicated people who could train hard, fight hard and risk it all if necessary. Headed up by an also high level and motivated Air Force colonel, Colonel Stephen J. Henderson, and his small team, the United Nations takes on Grigory Kelenchov on his own terms in a gripping game of espionage and head to head aerial combat. Helped by some unlikely friends, the chances of success are high but not guaranteed. Although pushed to the limit and surrounded by endless demands, Colonel Henderson also finds time for a new romance in his life, after the death of his wife several years earlier. This new woman is not only also in the U.S. Air Force but is on his team. Could it all go well or end in disaster.
- Publisher


Meet the Author
George Freeman
George Freeman is a retired engineer living in Queensland, Australia. His working career included retail, construction, government and consulting. As part of his private life, he developed his writing passion in numerous areas from an early age and the later part of his working career included significant technical writing. George now focuses on hard fiction novels where he combines his flying experience with his knowledge of the workings of government and the military. During his career, he interacted with a wide range of people and places and brings aspects of these into his novels. George is also a Christian and delicately brings his faith into his stories.
George has spent time at the controls of an F-15 Eagle fighter jet and on the flight deck of a C-130 Hercules transport plane, which both feature in his work. He also has over five hundred hours in a variety of small and large aircraft, including rotary and fixed-wing, from which he also draws his inspiration. He combines this knowledge with his extensive experience travelling across the United States, Britain, Australia and Europe. He has spent time trekking through harsh environment where he has learnt the unforgiving realities of sweat and exhaustion.
Georges diverse experience combines with a vivid imagination and his faith, to create action novels which come to life and are hard to put down. Where his experience is limited, he thoroughly researches his material to bring together only the best experience for the reader. His novels are definitely worth reading.