Where Rivers Part (#02 in Texas Gold Collection Series)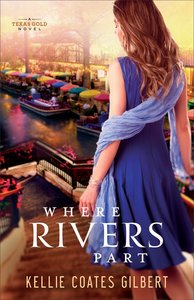 Following in her estranged father's footsteps, Dr. Juliet Ryan has devoted her scientific acumen to corporate America, providing safe drinking water for millions--and affording her plenty of perks along the way. Then, without warning, a fast-moving disaster sweeps Juliet into a whirlpool of corporate scandal and puts lives at risk. As she scrambles to find answers, Juliet must face her deepest wounds and join forces with her father to expose a far-reaching conspiracy. Underneath it all, she struggles to forgive those who betrayed her trust--not least of all her own father.

Kellie Coates Gilbert's emotionally complex and gripping novel fearlessly explores the seduction of success, the fear of giving up control, and the redemptive power of learning to forgive those who have hurt us most. Like a mighty river with twists and turns and hidden rocks, this story will sweep readers relentlessly along until the satisfying conclusion.

- Publisher
You May Also Be Interested In
About "Where Rivers Part (#02 in Texas Gold Collection Series)"
Following in her estranged father's footsteps, Dr. Juliet Ryan has devoted her scientific acumen to corporate America, providing safe drinking water for millions--and affording her plenty of perks along the way. Then, without warning, a fast-moving disaster sweeps Juliet into a whirlpool of corporate scandal and puts lives at risk. As she scrambles to find answers, Juliet must face her deepest wounds and join forces with her father to expose a far-reaching conspiracy. Underneath it all, she struggles to forgive those who betrayed her trust--not least of all her own father.

Kellie Coates Gilbert's emotionally complex and gripping novel fearlessly explores the seduction of success, the fear of giving up control, and the redemptive power of learning to forgive those who have hurt us most. Like a mighty river with twists and turns and hidden rocks, this story will sweep readers relentlessly along until the satisfying conclusion.
- Publisher


Meet the Author
Kellie Coates Gilbert
A former legal investigator and trial paralegal, Kellie Coates Gilbert writes with a sympathetic, intimate knowledge of how people react under pressure. She is a Pacific Northwest native, and now calls Dallas home.
Other Titles In The "Texas Gold Collection" Series