Where Trust Lies (#02 in Return To The Canadian West Series)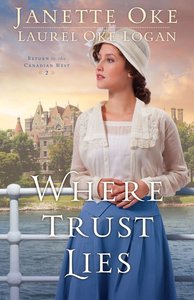 She loves her friends and students in the West, but family obligations have called her home. Where does she truly belong?

After a year of teaching in the Canadian West, Beth Thatcher returns home to her family. She barely has time to settle in before her mother announces plans for a family holiday--a luxurious steamship tour along the eastern coast of Canada and the United States. Hoping to reconnect with her mother and her sisters, Beth agrees to join them, but she quickly realizes that things have changed since she went away, and renewing their close bond is going to be more challenging than she expected.

There's one special thing to look forward to--letters and telephone calls from Jarrick, the Mountie who has stolen her heart. The distance between them is almost too much to bear. But can she give her heart to Jarrick when it will mean saying good-bye to her family once again--and possibly forever? And will she still want to live in the western wilds after the steamship tour opens up a world of people and places she never imagined?

Then comes a great test of Beth's faith. Someone in her family has trusted the wrong person, and suddenly everything Beth knows and loves is toppled. Torn between her family and her dreams, will Beth finally discover where her heart truly belongs?

A companion story to Hallmark Channel's When Calls the Heart TV series!

- Publisher
Also Available In
You May Also Be Interested In
About "Where Trust Lies (#02 in Return To The Canadian West Series)"
She loves her friends and students in the West, but family obligations have called her home. Where does she truly belong?

After a year of teaching in the Canadian West, Beth Thatcher returns home to her family. She barely has time to settle in before her mother announces plans for a family holiday--a luxurious steamship tour along the eastern coast of Canada and the United States. Hoping to reconnect with her mother and her sisters, Beth agrees to join them, but she quickly realizes that things have changed since she went away, and renewing their close bond is going to be more challenging than she expected.

There's one special thing to look forward to--letters and telephone calls from Jarrick, the Mountie who has stolen her heart. The distance between them is almost too much to bear. But can she give her heart to Jarrick when it will mean saying good-bye to her family once again--and possibly forever? And will she still want to live in the western wilds after the steamship tour opens up a world of people and places she never imagined?

Then comes a great test of Beth's faith. Someone in her family has trusted the wrong person, and suddenly everything Beth knows and loves is toppled. Torn between her family and her dreams, will Beth finally discover where her heart truly belongs?

A companion story to Hallmark Channel's When Calls the Heart TV series!
- Publisher


Meet the Authors
Janette Oke
Janette Oke was born in Champion, Alberta, Canada, during the depression years. She graduated from Mountain View Bible College in Alberta where she met her husband, Edward. They married in 1957 and served in churches in Calgary and Edmonton, Canada, and Indiana. Oke writes historical novels which portray the lives of early North American settlers from many walks of life and geographical settings. She also writes engaging children's stories and inspiring gift books that warm the heart. Oke published her first book, Love Comes Softly, in 1979. This book experienced immediate success and became a series. She has won a number of awards including the Gold Medallion Award, The Christy Award of Excellence, the 1992 Presidents Award for her significant contribution to the category of Christian fiction from the Evangelical Christian Publishers Association, and in 1999, the Life Impact Award from the Christian Booksellers Association International. Her books have been translated into fourteen languages. Oke has published some 75 books including, The Canadian West, Seasons of the Heart and Women of the West. Her most recent releases include a beautiful childrens picture book, I Wonder...Did Jesus Have a Pet Lamb and The Songs of Acadia series, co-written with T. Davis Bunn. - Publisher.
Laurel Oke Logan
Logan was born and raised in Canada. She is a homemaker and writer.
Other Titles In The "Return To The Canadian West Series" Series View All