Who Are We Now?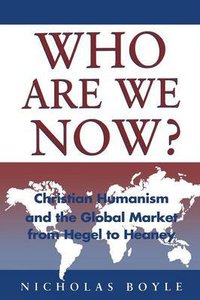 Nicholas Boyle offers ten studies of the implications of the increasingly integrated world economic structure for our sense of political, cultural, and personal identity. He argues for the deep interconnectedness of politics, religion, philosophy, and literature and their shared inseparability from the economic base. In the process, he uses philosophical and literary ideas to establish systematic grounds for optimism about an emerging supra-national order, aiming to restore the possibility of "grand narrative" to our collective past and future.

- Publisher
You May Also Be Interested In
About "Who Are We Now?"
Nicholas Boyle offers ten studies of the implications of the increasingly integrated world economic structure for our sense of political, cultural, and personal identity. He argues for the deep interconnectedness of politics, religion, philosophy, and literature and their shared inseparability from the economic base. In the process, he uses philosophical and literary ideas to establish systematic grounds for optimism about an emerging supra-national order, aiming to restore the possibility of "grand narrative" to our collective past and future.
- Publisher