Who is the Holy Spirit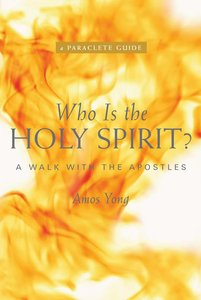 Where and how is the Holy Spirit at work in our world?The Holy Spirit is invoked in scripture, sermons, and bible studies, but do we really know how to recognize the Spirit's presence and activity in the world? What does it mean that the Holy Spirit is at work among us? How and where do we read the signs of the power of the Holy Spirit in our lives and the world? One of this country's most dynamic teachers of the New Testament, Amos Yong offers this incisive look at what the apostles have to say.Beginning with Luke, the most illuminating Gospel writer on the topic, Yong offers a series of meditations on Luke and Acts to show how the winds of the Spirit blew in the lives of Jesus, his disciples, and the earliest Christians--all so that we can see and participate in the work of the Spirit today.

- Publisher
You May Also Be Interested In
About "Who is the Holy Spirit"
Where and how is the Holy Spirit at work in our world?The Holy Spirit is invoked in scripture, sermons, and bible studies, but do we really know how to recognize the Spirit's presence and activity in the world? What does it mean that the Holy Spirit is at work among us? How and where do we read the signs of the power of the Holy Spirit in our lives and the world? One of this country's most dynamic teachers of the New Testament, Amos Yong offers this incisive look at what the apostles have to say.Beginning with Luke, the most illuminating Gospel writer on the topic, Yong offers a series of meditations on Luke and Acts to show how the winds of the Spirit blew in the lives of Jesus, his disciples, and the earliest Christians--all so that we can see and participate in the work of the Spirit today.
- Publisher


Meet the Author
Amos Yong
Amos Yong (Ph.D., Boston University) is J. Rodman Williams Professor of Theology at Regent University School of Divinity, Virginia Beach, Virginia. His books include The Spirit Poured Out on All Flesh; Hospitality and the Other; Beyond the Impasse: Toward a Pneumatological Theology of Religions and Spirit-Word-Community: Theological Hermeneutics in Trinitarian Perspective. More information about Amos Yong is available on the Regent University website.
Koorong - Editorial Review.