Why Christian Kids Rebel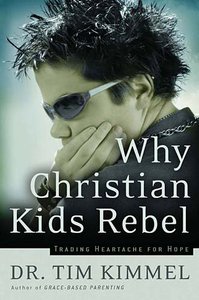 Author of GRACE BASED PARENTING and the best-selling LITTLE HOUSE ON THE FREEWAY, Dr. Tim Kimmel helps Christian parents avoid the potential problems their well-meaning parenting styles could create. This book offers a new way to look at the 'ideal' Christian home and shows why 'cocoon-style' Christian homes don't always work.

Many parents have 'done it all' when it comes to the checklist of good Christian parenting, only to see their son or daughter step away from their belief system and embrace other lifestyle choices.

Dr. Kimmel helps to increase the chances that your children will develop a vibrant faith early in life and stick with it on into adulthood. It will also provide help and hope for those already dealing with a rebellious teen and teach them how to lead the child back into a walk of faith.


- Publisher Not necessarily, says Dr. Tim Kimmel. But your fear that your once-upon-a-time toddler might walk away from the faith is based on reality. Nearly 90 percent of evangelical children leave the church after high school-and many never return. How then can a parent tell the difference between a prodigal and a teenager who is just stumbling toward adulthood? Dr. Tim Kimmel provides some surprising and refreshing answers in Why Christian Kids Rebel. Poor choices in movies, music, and companions-even immodest clothing and body piercing-could simply show that your teens are making decisions for themselves, a healthy step forward. Truly rebellious kids block God from their lives and push away family affection. They are obstinate, aloof, lazy, stubborn, moody, and argumentative. And proud of it. If your son or daughter fits that mold, what can you do? Why Christian Kids Rebel gives the answers you're searching for and provides help for building bridges to wayward children. And even better, it offers a doable plan for parents of young children who want to avoid having them walk away from God in a few short years. Book jacket.

- Publisher
You May Also Be Interested In
About "Why Christian Kids Rebel"
Author of GRACE BASED PARENTING and the best-selling LITTLE HOUSE ON THE FREEWAY, Dr. Tim Kimmel helps Christian parents avoid the potential problems their well-meaning parenting styles could create. This book offers a new way to look at the 'ideal' Christian home and shows why 'cocoon-style' Christian homes don't always work.

Many parents have 'done it all' when it comes to the checklist of good Christian parenting, only to see their son or daughter step away from their belief system and embrace other lifestyle choices.

Dr. Kimmel helps to increase the chances that your children will develop a vibrant faith early in life and stick with it on into adulthood. It will also provide help and hope for those already dealing with a rebellious teen and teach them how to lead the child back into a walk of faith.

- Publisher

Not necessarily, says Dr. Tim Kimmel. But your fear that your once-upon-a-time toddler might walk away from the faith is based on reality. Nearly 90 percent of evangelical children leave the church after high school-and many never return. How then can a parent tell the difference between a prodigal and a teenager who is just stumbling toward adulthood? Dr. Tim Kimmel provides some surprising and refreshing answers in Why Christian Kids Rebel. Poor choices in movies, music, and companions-even immodest clothing and body piercing-could simply show that your teens are making decisions for themselves, a healthy step forward. Truly rebellious kids block God from their lives and push away family affection. They are obstinate, aloof, lazy, stubborn, moody, and argumentative. And proud of it. If your son or daughter fits that mold, what can you do? Why Christian Kids Rebel gives the answers you're searching for and provides help for building bridges to wayward children. And even better, it offers a doable plan for parents of young children who want to avoid having them walk away from God in a few short years. Book jacket.
- Publisher


Meet the Author
Tim Kimmel
Dr. Tim Kimmel is best selling author of Little House On The Freeway and award winning Grace Based Parenting. He is also the Executive Director of Family Matters, a non-profit ministry that equips families to appropriate God?'s grace in every age and stage of life. For more information about Tim, his books and his conferences go to FamilyMatters.net.