Why I Am Not An Arminian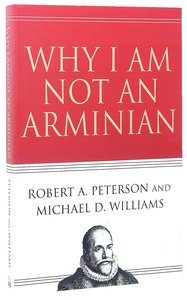 What's wrong with Arminianism?

Arminian theology is sweeping through the evangelical churches of North America. While most Arminians are good, sincere, orthodox Christians, authors Robert A. Peterson and Michael D. Williams contend that aspects of Arminian thought are troubling both biblically and theologically. In particular, they argue, Arminians have too lofty a view of human nature and an inadequate understanding of God's sovereign love in Christ.

Why I Am Not an Arminian explores the biblical, theological and historical background to the Calvinist-Arminian debate. The irenic nature and keen insight of this book will be appreciated by laypeople, pastors and scholars alike.


- Publisher This book clearly defines the biblical and theological weaknesses of Arminianism.

- Publisher "A quick glance at this volume's title might give someone the impression that the book is a harsh, polemical attack on Arminianism. Nothing could be further from the truth. Though clearly written from a Reformed evangelical perspective,Why I Am Not an Arminianis an evenhanded and careful critique of the Arminian approach to sin and salvation. To their credit, Robert Peterson and Mike Williams refuse to stack the theological deck in their favor by fairly evaluating only first-rate cases for Arminianism. After thoroughly addressing the historical context, theological concerns and biblical issues in a readable manner, Peterson and Williams show that even the best Arminian positions come up short.Why I Am Not an Arminianis a solid, valuable and biblically centered contribution to this never-ending discussion."

- Publisher
You May Also Be Interested In
About "Why I Am Not An Arminian"
What's wrong with Arminianism?

Arminian theology is sweeping through the evangelical churches of North America. While most Arminians are good, sincere, orthodox Christians, authors Robert A. Peterson and Michael D. Williams contend that aspects of Arminian thought are troubling both biblically and theologically. In particular, they argue, Arminians have too lofty a view of human nature and an inadequate understanding of God's sovereign love in Christ.

Why I Am Not an Arminian explores the biblical, theological and historical background to the Calvinist-Arminian debate. The irenic nature and keen insight of this book will be appreciated by laypeople, pastors and scholars alike.

- Publisher

This book clearly defines the biblical and theological weaknesses of Arminianism.
- Publisher

"A quick glance at this volume's title might give someone the impression that the book is a harsh, polemical attack on Arminianism. Nothing could be further from the truth. Though clearly written from a Reformed evangelical perspective,Why I Am Not an Arminianis an evenhanded and careful critique of the Arminian approach to sin and salvation. To their credit, Robert Peterson and Mike Williams refuse to stack the theological deck in their favor by fairly evaluating only first-rate cases for Arminianism. After thoroughly addressing the historical context, theological concerns and biblical issues in a readable manner, Peterson and Williams show that even the best Arminian positions come up short.Why I Am Not an Arminianis a solid, valuable and biblically centered contribution to this never-ending discussion."
- Publisher


Meet the Authors
Robert A Peterson
Robert A. Peterson (Ph.D., Drew University) is professor of systematic theology at Covenant Theological Seminary in St. Louis, Missouri. He was formerly professor of New Testament and theology at Biblical Theological Seminary in Hatfield, Pennsylvania. His books include Getting to Know John's Gospel: A Fresh Look at Its Main Ideas, Why I Am Not An Arminian, Hell on Trial: The Case for Eternal Punishment, Calvin's Doctrine of the Atonement, Adopted by God: From Wayward Sinners to Cherished Children and Hell Under Fire (coedited with Chris Morgan, Zondervan). He has written numerous articles, was a contributor to the second edition of the Evangelical Dictionary of Theology (Baker) and edits Covenant Seminary's journal, Presbyterion.
Michael D Williams
Michael D. Williams (PhD, University of Toronto) Professor of Systematic Theology was an adult convert to the Christian faith, Dr. Williams was a professor of theology at Dordt College for six years before joining Covenant Seminary's faculty in 1996. Dr. Williams has a strong reputation among Reformed and evangelical theologians. He has written particularly in the areas of the nature of theology and theological method, and history. Dr. Williams served as a youth pastor for three years. His publications include This World Is Not My Home: The Origins and Development of Dispensationalism, Why I Am Not an Arminian (with colleague Robert A. Peterson), and Far as the Curse is Found: The Covenant Story of Redemption.
Table Of Contents
Acknowledgments

1. Introduction

2. Augustine And Pelagius

3. Predestination: Conditional Or Unconditional?

4. Perseverance: Uncertain Or Certain?

5. Arminius And The Synod Of Dort

6. Freedom: Incompatibilist Or Compatibilist?

7. Inability: Hypothetical Or Actual?

8. Grace: Resistible Or Irresistible?

9. Atonement: Governmental Or Substitutionary?

Names Index

Subject Index

Scripture Index