Why I Stayed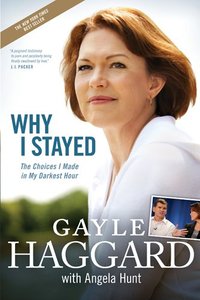 On November 2, 2006, Gayle Haggard?s life changed forever. That was the day that her husband, Ted Haggard, founder of the 14,000-member New Life Church in Colorado Springs and the President of the NAE, confessed to her the truth. In Why I Stayed, Gayle walks us through the choices she made in her darkest hours. On the day and in the months ahead, everything in her life was at stake?what she believed, the husband she thought she knew, and the church community she had worked tirelessly to establish with her husband and friends in the basement of their home more than two decades ago. Out of this crucible in her life, Gayle has discovered a newfound passion for the central message of the Bible?the liberating message of forgiveness and love. Why I Stayed is a must-read. It paints a picture of what less-than-perfect people, across this nation and all over the world, desperately need?a community of family and faith that offers healing love and a path to restoration.

- Publisher
You May Also Be Interested In
About "Why I Stayed"
On November 2, 2006, Gayle Haggard?s life changed forever. That was the day that her husband, Ted Haggard, founder of the 14,000-member New Life Church in Colorado Springs and the President of the NAE, confessed to her the truth. In Why I Stayed, Gayle walks us through the choices she made in her darkest hours. On the day and in the months ahead, everything in her life was at stake?what she believed, the husband she thought she knew, and the church community she had worked tirelessly to establish with her husband and friends in the basement of their home more than two decades ago. Out of this crucible in her life, Gayle has discovered a newfound passion for the central message of the Bible?the liberating message of forgiveness and love. Why I Stayed is a must-read. It paints a picture of what less-than-perfect people, across this nation and all over the world, desperately need?a community of family and faith that offers healing love and a path to restoration.
- Publisher


Meet the Author
Gayle Haggard
Gayle Haggard has been married for twenty-six years to Ted Haggard, president of the National Association of Evangelicals and pastor of New Life Church in Colorado Springs. From the early days with just a few people meeting in their basement through its growth into a megachurch of 11,000, Gayle has worked alongside her husband in building the ministry. Today she oversees New Life's small-group ministry for women, which includes more than 100 small groups. She and Ted are the parents of five.