Why Men Hate Going to Church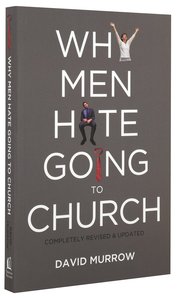 Why is it that men are so often disengaged from what goes on in a typical church context? Using eye-opening research, David Murrow reveals why men are the world's largest unreached people group, and calls the church to respond to men's God-given masculine needs and gifts.
You May Also Be Interested In
About "Why Men Hate Going to Church"
Why is it that men are so often disengaged from what goes on in a typical church context? Using eye-opening research, David Murrow reveals why men are the world's largest unreached people group, and calls the church to respond to men's God-given masculine needs and gifts.
- Koorong

?Church is boring.?

?It's irrelevant.?

?It's full of hypocrites.?

You've heard the excuses ?now learn the real reasons men and boys are fleeing churches of every kind, all over the world.

Christianity is the only world religion with a chronic shortage of men. David Murrow identifies the barriers to male participation, and explains why it's so hard to motivate the men who do go to church. Then, he takes you inside several fast-growing congregations that are winning the hearts of men and boys.

The first release of Why Men Hate Going to Church sold more than 125,000 copies and was published in multiple languages. This edition is completely revised, reorganized, and rewritten, with more than 70 percent new content. Why Men Hate Going to Church does not call men back to church?it calls the church back to men.

?This is one of the most helpful books for understanding why men are indifferent toward church and how churches must change to welcome men.?
?MARK DRISCOLL, pastor of Mars Hill Church; cofounder of Acts 29 Church Planting; founder of The Resurgence

?[This] is a prophetic and relevant ?snap-out-of-it? masterwork that every pastor must read?not just for the sake of the kingdom, but also for his own sake and sanity in ministry.?
?KENNY LUCK, men's pastor, Saddleback Church

?David Murrow knows how to connect with men. Where was this guy when I was twenty??
?FRANK PASTORE, host of America's largest
Christian talk show, KKLA (Los Angeles)

GROUP DISCUSSION GUIDE AVAILABLE FOR FREE AT WWW.CHURCHFORMEN.COM/GUIDES


- Publisher


Meet the Author
David Murrow
David Murrow is the bestselling author of Why Men Hate Going to Church and director of Church for Men, which works to restore a healthy masculine spirit in churches. A sought-after expert and speaker on men's issues, he spent twenty years honing his skills as a communicator producing and writing award-winning TV documentaries, commercials, and specials. David has a degree in anthropology. He and his wife have three children and live in Chugiak, Alaska. Learn more at www.churchformen.com.
Customer Reviews For "Why Men Hate Going to Church"
Write Your Own Review
Essential for leadership
By Derek Davey,

Aug 10 2017
In many places the church is dying. The survivors often only have a few elderly, and some women. David shows a number of aspects that make churches unfriendly and unattractive for men. These go from the culture of the gatherings to the tone of the message. The observations are obviously based in the USA, but I identified with too many aspects that he outlined. I had said to others previously that to get the children (to stay), you had to have their fathers. David says that if you get the men, the women (and children) will come, if they are not already there. (Don't throw the rotten tomatoes!) He notes that some of the mega US churches specifically targeted male stereotypes. Every pastor and leadership team should read this!
---
Thought provoking and helpful reading
By MatthewT,

Jan 15 2016
David Murrow has written a thoughtful, thought provoking book addressing the issue of why the church struggles to attract and keep men.
He also challenges church practices and traditions which make men feel uncomfortable. 
Although some of these traditions are valuable, his challenge should cause the church leader to stop and think about why we do these things and whether they can be adjusted or minimised for the sake of helping men feel more comfortable.  
One downside to the book is he seems to stereotype men, and what men want, somewhat.
Controversially, although I would agree necessarily, he raises the issue that if women are organising everything, everything will be much more likely suited to women. This raises the needed challenge for men already within the church to step up and be more involved. If both men and women are working together the church will reflect and appeal to both genders.   
 
A book worth reading for church leaders to be challenged about how men can be more effectively reached with the gospel. 
---
Loved it
By Ginny,

Jan 17 2013
I chose this book to read worried that maybe it wasn't for me (being a woman) but I was wrong. It's really a book for everyone. I was hoping it might be helpful for me as a wife and mum of three boys and I was right.

David Murrow has written 'Why men hate going to church' to address the glaring problem in churches all over the world today; women outnumber (sometimes by huge proportions) the men. His first section deals with this issue, describing the problem and defining exactly why it's a problem.

Part 2 (the best part in a book for me) analyses church history (going as far back as the industrial revolution) and church culture. Murrow demonstrates why and how the church is slowly but surely become more for women, more about women, and more enjoyable for women.

Part three gives us plenty of strategies for what to actually do about this problem. Murrow does a great job of reassuring his readers that it is possible and a lot of his suggestions are quite simple; they just require some intention to carry out. One of the highlights for me was chapter 20 when Murrow says that the willingness of women to crossover to a man's role is important. For example, many women would happily attend a DIY workshop at a hardware store or break into a male dominated career but most men could not tolerate attending a knitting class or breaking into the nursing profession! Because of the fact that women can 'do' masculine, Murrow asserts that our churches should ditch the feminine aspects of our worship and embrace the masculine.

I love this book. I especially loved that dissection of church history from a gender specific point of view.  I would recommend this to any Christian who wants to see the men in their life follow Christ. I believe it is especially important for church leaders and women to understand the concepts in this book. It is through them that the church can become more effective in reaching men.

Disclosure of Material Connection: I received this book free from the publisher through the BookSneeze.com http:BookSneeze.com book review bloggers program. I was not required to write a positive review. The opinions I have expressed are my own. I am disclosing this in accordance with the Federal Trade Commission's 16 CFR, Part 255 http:www.access.gpo.govnaracfrwaisidx_0316cfr255_03.html : "Guides Concerning the Use of Endorsements and Testimonials in Advertising."

{{review.title}}
By {{review.author.name}},

{{review.reviewCreatedDate | date:'MMM dd yyyy'}}

{{reviewdescription}}
{{review.text}}
---