Why Trust the Bible? (Niv Edition)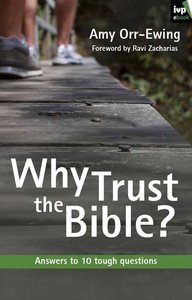 'You don't honestly believe all that stuff in the Bible!' Challenged by her friends, and later as a student by theological staff, Amy Orr-Ewing was determined to leave no stone unturned in her eagerness to prove that the Bible was unique and wholly rel

- Publisher
You May Also Be Interested In
About "Why Trust the Bible? (Niv Edition)"
'You don't honestly believe all that stuff in the Bible!' Challenged by her friends, and later as a student by theological staff, Amy Orr-Ewing was determined to leave no stone unturned in her eagerness to prove that the Bible was unique and wholly rel
- Publisher


Meet the Author
Amy Orr-Ewing
Amy Orr-Ewing is Training Director of RZIM Zacharias Trust and Director of Programmes for the Oxford Centre for Christian Apologetics. She gained a first class degree in Theology at Christ Church, Oxford University, before receiving a Masters degree in Theology at Kings College, London.
Amy has co-authored Holy Warriors: A Fresh Look at the Face of Extreme Islam and has contributed to the books God and the Generations and Worth Knowing: Wisdom for Women. Her latest books, Why Trust the Bible? (published under the title Is the Bible Intolerant? in North America) was shortlisted for the 2006 UK Christian Book Awards, and her next book is But Is It Real? (UK) and Is Believing in God Irrational?(USA).
Amy speaks and lectures on Christian Apologetics worldwide, at events such as the Keswick Convention and the European Leadership Forum, Hungary.She is married to Frog, who is a vicar in the Church of England, and they live in London with their twin boys.
Koorong - Editorial Review.