Wide Welcome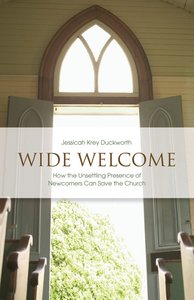 In Wide Welcome, Jessicah Krey Duckworth presents the stark differences between the established congregation, which cares for current members and congregational identity, and the disestablished one, intentionally equipped to facilitate the encounter between new and established members.
The disestablished congregations, she says, gains purpose and identity in the task of relating to the newcomer, and by doing so engages the world in powerful new ways. By intentionally extending the time of newcomer inquiry and allowing their questions, insights, and experiences to reverberate through the entire congregation both they and the church are changed.
Duckworth intentionally lays out possible designs for newcomer welcome that are local and particular.

- Publisher
You May Also Be Interested In
About "Wide Welcome"
In Wide Welcome, Jessicah Krey Duckworth presents the stark differences between the established congregation, which cares for current members and congregational identity, and the disestablished one, intentionally equipped to facilitate the encounter between new and established members.
The disestablished congregations, she says, gains purpose and identity in the task of relating to the newcomer, and by doing so engages the world in powerful new ways. By intentionally extending the time of newcomer inquiry and allowing their questions, insights, and experiences to reverberate through the entire congregation both they and the church are changed.
Duckworth intentionally lays out possible designs for newcomer welcome that are local and particular.
- Publisher


Meet the Author
Jessicah Krey Duckworth
Jessicah Krey Duckworth is assistant professor of congregation and community care at Luther Seminary, St. Paul, MN. An ordained minister in the ELCA, she has taught at Wesley Theological Seminary, Princeton Theological Seminary, and the Lutheran Theological Seminary at Philadelphia.