Wild Cat (#03 in Starlight Animal Rescue Series)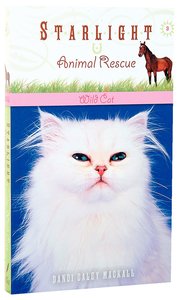 "I haven't done anything with my life... I need to do something...like Mom and Dad and Hank do all the time. And I need to do it now." Meet 12-year-old Kat - short for Katharine. She thinks she has two weeks to do something worthy of being adopted by her wonderful foster family. But cancer, medicine, and the older kids at Starlight Animal Rescue make it difficult for Kat to really help out around the farm. On top of that, she's just started junior high and has to work on a project with the most popular - and demanding - girl in her class. When Kat accepts the role of "cat shrink" for her classmates' pets, could her success...or failure...be more than she can handle?



- Publisher
You May Also Be Interested In
About "Wild Cat (#03 in Starlight Animal Rescue Series)"
"I haven't done anything with my life... I need to do something...like Mom and Dad and Hank do all the time. And I need to do it now." Meet 12-year-old Kat - short for Katharine. She thinks she has two weeks to do something worthy of being adopted by her wonderful foster family. But cancer, medicine, and the older kids at Starlight Animal Rescue make it difficult for Kat to really help out around the farm. On top of that, she's just started junior high and has to work on a project with the most popular - and demanding - girl in her class. When Kat accepts the role of "cat shrink" for her classmates' pets, could her success...or failure...be more than she can handle?


- Publisher


Meet the Author
Dandi Daley Mackall
Dandi Daley Mackall has published about 300 books for children and adults.She has authored the I'm Not Afraid Series and served as creative director for the TodaysGirls.com series. She also wrote the seasonal favorites, Off to Plymouth Rock, Merry Creature Christmas, and Journey Easter Journey.She's written a humorist column and served as freelance editor. She conducts writing assemblies, workshops, and Young Author programs across the U.S. Dandi writes from rural Ohio, where she lives with her husband, Joe, and three children, Jen, Katy, and Dan.- Publisher.
Other Titles In The "Starlight Animal Rescue Series" Series View All