Wildwood Creek: A Novel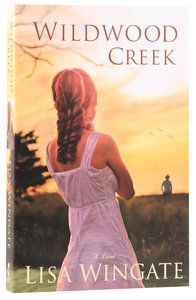 Wingate's Newest Blends Contemporary Romance with a Mystery out of the Past

Allie Kirkland has never been one to take wild risks. But when she's offered a costuming assistant's job on a docudrama in the hills near Moses Lake, she jumps at the chance. She's always dreamed of following in her director-father's footsteps, and the reenactment of the legendary frontier settlement of Wildwood is a first step. The family expectations will have to wait.

But in 1861, the real Wildwood held dangerous realities. Town founder Harland Delevan held helpless residents, including young Irish schoolteacher Bonnie Rose, in an iron grip. Mysterious disappearances led to myths and legends still retold in the folk songs of Chinquapin Peaks. Eventually, the entire site was found abandoned.

When strange connections surface between Allie and the teacher who disappeared over a century ago, everyone in Wildwood, including Allie's handsome neighbor on the film set, Blake Fulton, seems to be hiding secrets, and Allie doesn't know who she can trust. If she can't find the answers in time, history may repeat itself . . . with the most unthinkable results.

- Publisher
You May Also Be Interested In
About "Wildwood Creek: A Novel"
Wingate's Newest Blends Contemporary Romance with a Mystery out of the Past

Allie Kirkland has never been one to take wild risks. But when she's offered a costuming assistant's job on a docudrama in the hills near Moses Lake, she jumps at the chance. She's always dreamed of following in her director-father's footsteps, and the reenactment of the legendary frontier settlement of Wildwood is a first step. The family expectations will have to wait.

But in 1861, the real Wildwood held dangerous realities. Town founder Harland Delevan held helpless residents, including young Irish schoolteacher Bonnie Rose, in an iron grip. Mysterious disappearances led to myths and legends still retold in the folk songs of Chinquapin Peaks. Eventually, the entire site was found abandoned.

When strange connections surface between Allie and the teacher who disappeared over a century ago, everyone in Wildwood, including Allie's handsome neighbor on the film set, Blake Fulton, seems to be hiding secrets, and Allie doesn't know who she can trust. If she can't find the answers in time, history may repeat itself . . . with the most unthinkable results.
- Publisher


Meet the Author
Lisa Wingate
Lisa Wingate lives with her husband and two sons in central Texas, where she is a popular writer and inspirational speaker. She grew up in Oklahoma and studied writing at Oklahoma State University. Author website: lisawingate.com.
Customer Reviews For "Wildwood Creek: A Novel"
Write Your Own Review
A great read!
By Jessica R Wakefield,

Jun 05 2014

The concept of this book was awesome! Different and gripping. In Wildwood Creek, Lisa Wingate takes readers from the past to the present and does it in a really good way. Using a modern day reality show, where the actors work and live in the set designed town of Wildwood Creek and then taking the reader back to said place is great! I was riveted by the story of Bonnie Rose in the past and when moved into the present time, I was equally intrigued as to how Allie's story would pan out and how Bonni Rose's legacy still impacted the happenings of the novel.

Allie and Blake's relationship was so mysterious for much of the book. Mainly because Blake is a bit of a mystery himself and when you put everyone in their "roles" for the show, discovering who a person "is" gets a little harder. Essentially, this is also what Allie was trying to do for Bonnie Rose. Who was she? Why are there haunting songs featuring Bonnie Rose? These questions and the ones about Blake get answered and the mystery surrounding the town and the one surrounding the set of the reality show are not what the reader expects, but are well done.

Overall this was a really enjoyable book and so different, but done so well that this makes it a treasure!

Oh and the cover is just gorgeous!
---
Fascinating mystery with a hint of romance
By Iola,

Feb 28 2014
This is a dual timeline story, switching between the story of Bonnie Rose in 1861 Wildwood, and Allie in the contemporary recreation of the town. The suspense in Bonnie's story is only enhanced by what we know in the present day, that all the inhabitants of Wildwood disappeared without trace. I often find dual timeline stories annoying, as one story is usually weaker than the other, but this was not the case in Wildwood Creek.  
It's been a while since I've read a novel by Lisa Wingate. The last two I read were too lightweight for my taste, and despite being marketed as Christian fiction, didn't have any Christian content to speak of (in my opinion, there is more to 'Christian fiction' than a lack of swearing, sex or gratuitous violence. Or there should be). There was a faith element in Wildwood Creek, but it was only a light touch and didn't come into play until the last quarter of the book. In terms of genre, Wildwood Creek was a mystery set in two timelines, with an element of romance in each, and a highly gratifying and unusual finish. 
 Wildwood Creek is the fourth book in the Moses Lake series, but works well as a standalone. Recommended for someone looking for a book that's slightly different. 
Thanks to Bethany House and NetGalley for providing a free ebook for review
{{review.title}}
By {{review.author.name}},

{{review.reviewCreatedDate | date:'MMM dd yyyy'}}

{{reviewdescription}}
{{review.text}}
---