Will Willimon's Lectionary Sermon Resource, Year C Part 1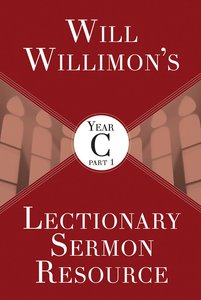 Will Willimon is widely acclaimed as one of the top ten preachers in the world. For each Sunday of the Christian year, Will provides just what you need to begin the journey toward a sermon. This guide will stoke, fund, and fuel your imagination while leaving plenty of room to insert your own illustrations, make connections within your congregational context, and speak the Word in your distinctive voice. Guidance from Will Willimon is like sitting down with a trusted clergy friend and asking, "What will you preach next Sunday?" Year C Part 1 is part of a six-volume set that includes years A, B, and C (2 volumes per year) in the Revised Common Lectionary.

Each week of sermon resources includes:

1.Readings
2.Theme title
3.Introduction to the Readings
4.Encountering the Text
5.Proclaiming the Text
6.Relating the Text

- Publisher
You May Also Be Interested In
About "Will Willimon's Lectionary Sermon Resource, Year C Part 1"
Will Willimon is widely acclaimed as one of the top ten preachers in the world. For each Sunday of the Christian year, Will provides just what you need to begin the journey toward a sermon. This guide will stoke, fund, and fuel your imagination while leaving plenty of room to insert your own illustrations, make connections within your congregational context, and speak the Word in your distinctive voice. Guidance from Will Willimon is like sitting down with a trusted clergy friend and asking, "What will you preach next Sunday?" Year C Part 1 is part of a six-volume set that includes years A, B, and C (2 volumes per year) in the Revised Common Lectionary.

Each week of sermon resources includes:

1.Readings
2.Theme title
3.Introduction to the Readings
4.Encountering the Text
5.Proclaiming the Text
6.Relating the Text
- Publisher


Meet the Author
William H Willimon
William H. Willimon is Presiding Bishop of the Birmingham Area of The United Methodist Church. Prior to his current position he served for twenty years as Professor of Christian Ministry and Dean of Duke University Chapel. He is the author of fifty books and over a million copies of his books have been sold including Sighing for Eden: Sin, Evil, and the Christian Faith, Thank God It's Friday, Conversations with Barth on Preaching, Proclamation and Theology, Sinning Like a Christian, Pastor: The Theology and Practice of Ordained Ministry and Proclamation And Theology: Horizons in Theology Series (Horizons in Theology)His articles have appeared in many publications including The Christian Ministry, Quarterly Review, Liturgy, Worship, and Christianity Today. His Pulpit Resource is used each week by over eight thousand pastors in the U.S.A., Canada, and Australia. He was selected in a Baylor University survey as one of the "Twelve Most Effective Preachers in the English-Speaking World."