Winning Him Without Words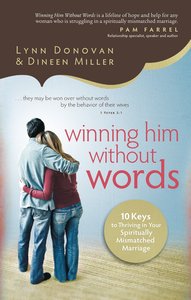 Week after week, they sit in church ... alone. They are the spiritually mismatched, those who are committed to a spouse who does not share their faith. Feeling abandoned by their spouse and forgotten by their church, they live out their faith in survival mode, guarding the spiritual flame yet never feeling free to share it. But God wants them to thrive--not just survive.

Winning Him Without Words presents ten Christ centered keys to thriving in a spiritual mismatch. Readers are encouraged to commit to Christian community, to release their spouse to God's capable hands, to find peace in their relationships with Christ and with their spouse, to continue their pursuit of a growing faith, and to love their spouse with fresh enthusiasm. God wants every marriage to exude peace and love, and Winning Him Without Words empowers readers to create that environment in their homes and thrive as God works.

Winning Him Without Words was the recipient of the Nonfiction Book of 2011 Award from the San Diego Christian Writers Guild, one of the largest Christian writers group in the United States.

- Publisher
You May Also Be Interested In
About "Winning Him Without Words"
Week after week, they sit in church ... alone. They are the spiritually mismatched, those who are committed to a spouse who does not share their faith. Feeling abandoned by their spouse and forgotten by their church, they live out their faith in survival mode, guarding the spiritual flame yet never feeling free to share it. But God wants them to thrive--not just survive.

Winning Him Without Words presents ten Christ centered keys to thriving in a spiritual mismatch. Readers are encouraged to commit to Christian community, to release their spouse to God's capable hands, to find peace in their relationships with Christ and with their spouse, to continue their pursuit of a growing faith, and to love their spouse with fresh enthusiasm. God wants every marriage to exude peace and love, and Winning Him Without Words empowers readers to create that environment in their homes and thrive as God works.

Winning Him Without Words was the recipient of the Nonfiction Book of 2011 Award from the San Diego Christian Writers Guild, one of the largest Christian writers group in the United States.
- Publisher


Meet the Authors
Lynn Donovan
LYNN DONOVAN writes for the online ministry she founded in 2006, Spiritually Unequal Marriage. Lynn is a popular Bible study leader and national speaker who dispels the myths women believe about love and marriage and points them to the freedom that is theirs through a living relationship with Christ. She lives in Temecula, California, with her husband, Mike.
Dineen Miller
Dineen Miller believes her years as a youth counselor, a Stephen Minister, a women's ministry leader and a small group leader fuel her desire to ignite the souls of others through words of truth. She's also a C.L.A.S.S. Communicator and has been featured on the Moody Radio Network, Family on the Family and FamilyLife Today. She lives in the Bay Area with her husband. They have two daughters and a son-in-law. Dineen is the coauthor of Winning Him Without Words, and author of The Soul Saver. Visit Dineen online at spirituallyunequalmarriage.com.