Winning Miss Winthrop (#01 in Regency Brides: A Promise Of Hope Series)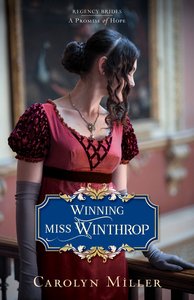 Catherine Winthrop has cried out to God too many times to count. Years ago, the man who stole her heart rejected her--and she's never recovered. Now tragedy has brought him back into her life. This time it isn't her heart he's taking, it's her home and her family's good name--and she has no one to share her grief.

Jonathan Carlew's life may look enviable from the outside--wealthy, handsome, landed--but the mystery surrounding his birth has shadowed his entire life. Now as he ascends to the barony, fresh challenges await, including a scheming mama who wants him to embrace power, even at the cost of losing love. How can he remain the kind, honorable man he strives to be and still meet the demands of his new society responsibilities?

These two broken hearts must decide whether their painful past and bitter present will be all they can share, or if forgiveness can provide a path to freedom for the future.

Set in the sumptuous salons of Bath, Regency England's royal breeding ground for gossip, Winning Miss Winthrop is the first volume in Carolyn Miller's new series. Fans of the wholesome and richly drawn first series won?t want to miss this new set of characters.

- Publisher
You May Also Be Interested In
About "Winning Miss Winthrop (#01 in Regency Brides: A Promise Of Hope Series)"
Catherine Winthrop has cried out to God too many times to count. Years ago, the man who stole her heart rejected her--and she's never recovered. Now tragedy has brought him back into her life. This time it isn't her heart he's taking, it's her home and her family's good name--and she has no one to share her grief.

Jonathan Carlew's life may look enviable from the outside--wealthy, handsome, landed--but the mystery surrounding his birth has shadowed his entire life. Now as he ascends to the barony, fresh challenges await, including a scheming mama who wants him to embrace power, even at the cost of losing love. How can he remain the kind, honorable man he strives to be and still meet the demands of his new society responsibilities?

These two broken hearts must decide whether their painful past and bitter present will be all they can share, or if forgiveness can provide a path to freedom for the future.

Set in the sumptuous salons of Bath, Regency England's royal breeding ground for gossip, Winning Miss Winthrop is the first volume in Carolyn Miller's new series. Fans of the wholesome and richly drawn first series won?t want to miss this new set of characters.
- Publisher


Meet the Author
Carolyn Miller
Carolyn Miller lives in the beautiful Southern Highlands of New South Wales, Australia, with her husband and four children.

A longtime lover of romance, especially that of Jane Austen and Georgette Heyer's Regency era, Carolyn holds a BA in English Literature, and loves drawing readers into fictional worlds that show the truth of God's grace in our lives.

Customer Reviews For "Winning Miss Winthrop (#01 in Regency Brides: A Promise Of Hope Series)"
Write Your Own Review
Beautiful New Series
By Clare,

Sep 07 2018
I was slightly hesitant in reading this new series, as I had fallen in love with the characters in "A Legacy of Grace".... however there was no reason to be! Miss Lavinia shows up enough to feel that your friends are still around, and her friends become your friends. Catherine is a delightful new acquaintance, and my heart bled for her as she struggled with the effects of her father's death. A wonderful read... I'm looking forward to the rest of the series!
---
A real joy to read
By Victoria ,

Jun 18 2018
Loved this book, give it a chance you will fall in love with the characters you will be cheering for some cringing over others. Miss Winthrop is endearing to the end. 
---
An Engaging Regency Romance from an Aussie author
By Iola,

May 11 2018
Two years ago, Miss Catherine Winthrop fell in love with her third cousin once removed, Jonathan Carlew. She thought the feeling was mutual, but he abandoned her. Now she is twenty-five years old, at home, and on the shelf. But things are about to get complicated.

Her father dies, and instead of the estate going to the expected heir, it goes to Jonathan Carlew. Catherine and her mother are forced to leave their home and move into the Dower House, with a much-reduced income. 

What follows is a frustrating yet engaging read as Catherine and Jonathan have to face up to being in the company of the other, both believing the other to have been at fault in the demise of their earlier relationship. 

There is lots of great writing, much of which centres around Catherine's frustration over her situation. 

As usual, Carolyn Miller's is writing is spot on for the period and location. Her locations come alive, and she captures the manners of the Regency period perfectly, while introducing a rare spiritual depth. Miller's writing is full of the wit and subtext present in other Regency novelists such as Jane Austen and Georgette Heyer. And now I'm anxiously awaiting Miss Serena's Secret, the second book in the series.

Recommended for all Regency romance lovers.

Thanks to Kregel and NetGalley for providing a free ebook for re
---
Captivating, inspiring
By Jenny Glazebrook,

Mar 10 2018
I have loved all of Carolyn Miller's books and this one was no exception. I was captivated from the very start. My heart was carried along with Catherine's as she struggled to let go of the past, find peace in God, and accept all He had for her. I loved that the hero, Jonathan, was so realistic. I appreciated that he was a man of character who tried to live up to God's standards, but that he also came to realise that on his own he simply couldn't do it and needed God to intervene and rescue him from his own past misunderstandings and mistakes. I was reminded throughout that God goes behind and before us, using even our mistakes to deepen our relationship with him and our understanding of him, just as he did for Catherine and Jonathan in this story. I was also reminded of the value of perseverance as we wait upon the Lord and trust Him even when everything seems to be going wrong. And then, what a beautiful, triumphant ending!
As always with Carolyn Miller's books, the dialogue was witty, the descriptions full of life, the language very fitting for the regency period, the setting vivid and the spiritual walks of the characters inspiring. Another amazing story from this author.

---
Great book
By Belle,

Mar 08 2018
I really enjoyed this book.  It's book 1 of the Regency Brides: Promise of Hope series, but it continues on with some of the characters from her other Regency Brides series.
I really enjoyed the main characters and I also enjoyed getting to know lots of other characters who form their extended families and friends.  Lots of complex characters and an interesting plot.
Can't wait for the next book in the series!
{{review.title}}
By {{review.author.name}},

{{review.reviewCreatedDate | date:'MMM dd yyyy'}}

{{reviewdescription}}
{{review.text}}
---
Other Titles In The "Regency Brides: A Promise Of Hope Series" Series