Winning the Race Every Day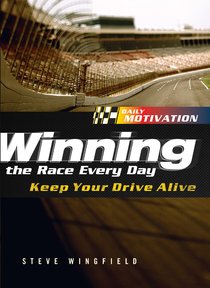 Drive to Win

The apostle Paul compared the Christian life to a race--and races are meant to be won! Put yourself into the driver's seat and keep an eye out for the green flag. Like a NASCAR driver, you'll need all the skill, guts, and heart in the world ... and that's where Winning the Race Every Day comes in. These daily readings--one for every day of the year--will inspire and train you to drive the race of your life with boldness, courage, and an unquenchable longing to know God. Each day's short meditation ends with a "Pit Stop" prayer, promise, praise, or point to ponder that will supercharge you for the next lap. So drive your life this year as if the finish line is just around the next curve. That's the only way to win!

- Publisher
You May Also Be Interested In
About "Winning the Race Every Day"
Drive to Win

The apostle Paul compared the Christian life to a race--and races are meant to be won! Put yourself into the driver's seat and keep an eye out for the green flag. Like a NASCAR driver, you'll need all the skill, guts, and heart in the world ... and that's where Winning the Race Every Day comes in. These daily readings--one for every day of the year--will inspire and train you to drive the race of your life with boldness, courage, and an unquenchable longing to know God. Each day's short meditation ends with a "Pit Stop" prayer, promise, praise, or point to ponder that will supercharge you for the next lap. So drive your life this year as if the finish line is just around the next curve. That's the only way to win!
- Publisher


Meet the Author
Steve Wingfield
Wingfield serves as president of Wingfield Ministries and is a full-time evangelist and speaker. He and his wife, Barbara, have two grown children.