Wired For God?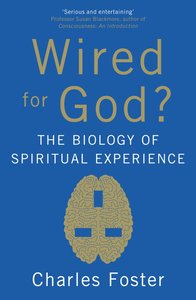 Human religious experiences are remarkably uniform; many can be pharmacologically induced. Recent research into the neurology of religious experience has shown that, when worshipping or praying, a certain part of the brain, apparently dormant during other activities, becomes active. What does all this mean for those of faith and those with none? In this fascinating book barrister Charles Foster takes a survey of the evidence - from shamans to medieval mystics, to out-of-body experiences and epilepsy, via Jerusalem and middle-class Christianity - and assesses its significance.
Written in short, accessible chapters, this is a fascinating tour of religious and mystical experiences and their relation to human physiology.A fascinating examination of the neurology behind religious experience
You May Also Be Interested In
About "Wired For God?"
Human religious experiences are remarkably uniform; many can be pharmacologically induced. Recent research into the neurology of religious experience has shown that, when worshipping or praying, a certain part of the brain, apparently dormant during other activities, becomes active. What does all this mean for those of faith and those with none? In this fascinating book barrister Charles Foster takes a survey of the evidence - from shamans to medieval mystics, to out-of-body experiences and epilepsy, via Jerusalem and middle-class Christianity - and assesses its significance.
Written in short, accessible chapters, this is a fascinating tour of religious and mystical experiences and their relation to human physiology.A fascinating examination of the neurology behind religious experience
- Koorong

Human religious experiences are remarkably uniform; many can be pharmacologically induced. Recent research into the neurology of religious experience has shown that, when worshipping or praying, a certain part of the brain, apparently dormant during other activities, becomes active. What does all this mean for those of faith and those with none? In this fascinating book barrister Charles Foster takes a survey of the evidence - from shamans to medieval mystics, to out-of-body experiences and epilepsy, via Jerusalem and middle-class Christianity - and assesses its significance.
Written in short, accessible chapters, this is a fascinating tour of religious and mystical experiences and their relation to human physiology.
- Publisher


Meet the Author
Charles Foster
Charles Foster is a lawyer and part-time judge, and lectures in medical ethics at the University of Oxford. He is also an explorer, and in 2002 was a member of a successful British ski expedition to the North Pole. He is the author of Wired for God: The biology of spiritual experience (Hodder 2010); The Selfless Gene: Living with God and Darwin (Hodder 2009); Tracking the Ark of the Covenant (Monarch,2007); The Christmas Mystery (Authentic, 2007); and The Jesus Inquest: The case for - and against - the resurrection of the Christ (Monarch Press; 2007)