Wisdom From Women in the Bible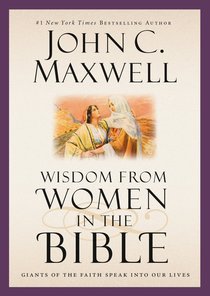 If you could spend a few minutes with biblical heroines Ruth, Sarah, Mary, and others, what valuable lessons would they share with you? In the tradition of Running with the Giants and Learning from the Giants, John Maxwell shares wisdom on life and leadership inspired by the Bible-this time focusing solely on the stories of nine incredible women.

Learn how God blesses the promises you keep to Him, why you should follow your heart to find your hope, and how not to miss your moment with God. Read on your own or study with a group using the provided faith-building questions. You'll enjoy the journey with Maxwell as he imagines what it would be like to visit heaven and meet giants of the faith who had their lives transformed by God.

You'll gain insights from:
Ruth...for when you must make a decision but don't know what to do.
Sarah...for when you can't understand God and impatience threatens to overwhelm you.
Mary...for when God asks you to do something outside of your comfort zone.

The women who influenced Maxwell inspired this book, and he includes the perspectives of those closest to him in this volume. They and the giants of the faith who continue to inspire them will encourage you to fulfill your destiny and leave a lasting, positive impression on your family and the world.


- Publisher
You May Also Be Interested In
About "Wisdom From Women in the Bible"
If you could spend a few minutes with biblical heroines Ruth, Sarah, Mary, and others, what valuable lessons would they share with you? In the tradition of Running with the Giants and Learning from the Giants, John Maxwell shares wisdom on life and leadership inspired by the Bible-this time focusing solely on the stories of nine incredible women.

Learn how God blesses the promises you keep to Him, why you should follow your heart to find your hope, and how not to miss your moment with God. Read on your own or study with a group using the provided faith-building questions. You'll enjoy the journey with Maxwell as he imagines what it would be like to visit heaven and meet giants of the faith who had their lives transformed by God.

You'll gain insights from:
Ruth...for when you must make a decision but don't know what to do.
Sarah...for when you can't understand God and impatience threatens to overwhelm you.
Mary...for when God asks you to do something outside of your comfort zone.

The women who influenced Maxwell inspired this book, and he includes the perspectives of those closest to him in this volume. They and the giants of the faith who continue to inspire them will encourage you to fulfill your destiny and leave a lasting, positive impression on your family and the world.

- Publisher


Meet the Author
John C Maxwell
John C. Maxwell is a #1 New York Times bestselling author, coach, and speaker who has sold more than thirty million books in fifty languages. He has been identified as the #1 leader in business by the American Management Association and the most influential leadership expert in the world by Business Insider and Inc. magazines. He is the founder of the John Maxwell Company, the John Maxwell Team, EQUIP, and the John Maxwell Leadership Foundation, organizations that have trained millions of leaders from every country of the world. The recipient of the Mother Teresa Prize for Global Peace and Leadership from the Luminary Leadership Network, Dr. Maxwell speaks each year to Fortune 500 companies, presidents of nations, and many of the world's top business leaders. - Koorong



John C. Maxwell is an internationally recognized leadership expert, speaker, and author who has sold over 13 million books. His organizations have trained more than 2 million leaders worldwide. Dr. Maxwell is the founder of Injoy Stewardship Services and EQUIP. Every year he speaks to Fortune 500 companies, international government leaders, and organizations as diverse as the United States Military Academy at West Point and the National Football League. A New York Times, Wall Street Journal, and Business Week best-selling author, Maxwell was one of 25 authors and artists named to Amazon.com's 10th Anniversary Hall of Fame. Three of his books, The 21 Irrefutable Laws of Leadership, Developing the Leader Within You and The 21 Indispensable Qualities of a Leader have each sold over a million copies. - Publisher.