With Love From Bliss (#02 in Saskatchewan Saga Series)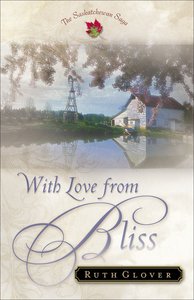 In With Love from Bliss, Kerry Ferne, a precocious orphan taken in by her Aunt Charlotte, finds happiness for the first time and deep and abiding friendships with her maid, Gladdy, and her new "sister," the frail Franny. When a loved one\u2019s death seems spurred by an act of casual cruelty, Kerry is driven by revenge to an act far beneath her. She is stopped short, however, when love surprises her.

- Publisher In this sequel, a young lady travels to Bliss to seek revenge, but is stopped by love.

- Publisher An orphan feels a family's love for the first time, yet experiences untapped rage when a loved one tragically dies.

- Publisher Book Two introduces us to a precocious orphan who eventually is taken in by rich relatives. As a young woman, she travels to Bliss on the pretense of buying property when she actually wants to take revenge on one of Bliss's citizens. Her plans change when the love of Christ gets in her way.

- Publisher
You May Also Be Interested In
About "With Love From Bliss (#02 in Saskatchewan Saga Series)"
In With Love from Bliss, Kerry Ferne, a precocious orphan taken in by her Aunt Charlotte, finds happiness for the first time and deep and abiding friendships with her maid, Gladdy, and her new "sister," the frail Franny. When a loved one\u2019s death seems spurred by an act of casual cruelty, Kerry is driven by revenge to an act far beneath her. She is stopped short, however, when love surprises her.
- Publisher

In this sequel, a young lady travels to Bliss to seek revenge, but is stopped by love.
- Publisher

An orphan feels a family's love for the first time, yet experiences untapped rage when a loved one tragically dies.
- Publisher

Book Two introduces us to a precocious orphan who eventually is taken in by rich relatives. As a young woman, she travels to Bliss on the pretense of buying property when she actually wants to take revenge on one of Bliss's citizens. Her plans change when the love of Christ gets in her way.
- Publisher


Meet the Author
Ruth Glover
Ruth Glover was born and raised in the Saskatchewan bush country of Canada. She has written many poems and books, including the Wildrose series. Glover and her husband live in The Dalles, Oregon.
Other Titles In The "Saskatchewan Saga" Series View All