Within My Heart (#03 in Timber Ridge Reflections Series)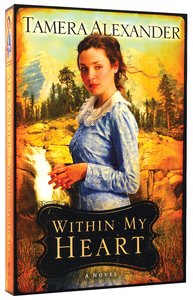 You May Also Be Interested In
Meet the Author
Tamera Alexander
Tamera Alexander is the critically acclaimed author of Rekindled, her first novel. Before turning to writing full-time, Tamera Alexander's professional background was in business management and corporate conference coordination. A business graduate of Harding University, Tamera lives with her husband and their two teenagers in Greeley, Colorado.
Customer Reviews For "Within My Heart (#03 in Timber Ridge Reflections Series)"
Write Your Own Review
Truly beautiful
By Di, Australia,

Jan 07 2017
What a beautiful story.  So moving and real to me at moments, I cried feeling God's love for me and reaching those places of pain deeply recessed in my heart.  
---
Couldn't put it down
By Bec C ,

Aug 25 2016
This book was engaging, easy and enjoyable to read. I found that I couldn't put it down. I really liked the way Tamera paints the picture of Timber Ridge and the characters she has created. On a side note I was delighted to find that some characters(that are briefly mentioned) from the Timber Ridge series appear also in Tamera's "Fountain Creek Chronicles".
---
Perfect conclusion to the series
By Alyce,

May 07 2016
What a wonderful way to finish off the trilogy. This finial book focuses on Rachel Boyd, but we also find out some more information about other minor characters that we met in the last two books. I feel like I know these people so well I'll be sad to say goodbye.
---
the 3rd Installment
By Jessica R. Wakefield,

Oct 19 2012
 I read a lot of books throughout the year..some might say too many. I also read very quickly. I'm a book junkie and I know it. Flipping through my list of books I've read in the last year or so, I can only name one or two books in which I shed a tear or two. Shedding a tear or two over a book is one thing, but crying like a baby is another.


That's exactly what happened to me in the last eight chapters or so of Within My Heart. Odd as from the blurb, I honestly thought I'd enjoy this book less than Tamera Alexander's first two in the Timber Ridge Reflections series. Mainly becasue Rachel Boyd was the main character. I didn't much like her in the first two books and was worried that I'd continue struggling to like her here. I was wrong. Very wrong. Although she has great reason for the walls she puts up, we see a change in her for the better, with much of that change due to Timber Ridge's Dr. Rand Brookston.


I was deeply moved by this book. The characters - all of them - just jumped off the page and landed right in my heart. Their they'll stay for quite sometime.


The honesty and depth that Tamera writes is stunningly accurate. It is clear she knows the road her characters are walking. Having walked part of a similar road as one or two of the characters have, I knew also what they experinced was real and heartbreaking, but beautifully heartbreaking. Hence all the crying.


I don't want to say much more because Within My Heart says enough on its own. I leave you with the quote from the book that left me in tears. Don't worry it doesn't tell anything more that you wouldn't find out in the early chapters.


"...it didn't matter whether death came suddenly, without warning, or whether it came slowly, giving you time to memorize the sound of its footsteps and the hollow cadence of its march. Whichever way death came, and however much she believed that the grave held no lasting victory, the same terrible rending tore deep down inside, severing what was from what would never be again. At least not here on this earth."
{{review.title}}
By {{review.author.name}},

{{review.reviewCreatedDate | date:'MMM dd yyyy'}}

{{reviewdescription}}
{{review.text}}
---
Other Titles In The "Timber Ridge Reflections" Series